Being a level three personal trainer is an incredibly rewarding career choice. Not only do you have the opportunity to know and understand the fundamentals of fitness and body conditioning, but you will also be able to use your passion to motivate other people towards a healthier, happier lifestyle.
A level three personal trainer has the ability to train clients 1-2-1 in a gym or fitness facility. You'll mainly spend your days:
writing exercise programs for clients
coaching those clients to help them reap the benefits of exercise
fitting in your own training to stay in incredible shape and develop your skills
benefiting from the knowledge and relationships you'll develop with other trainers
Level three personal trainers are also businesspeople; using their talents in sports and motivation to drive the fitness industry forward. Even if you don't have your own training company, you will still be responsible for building a client base and developing your knowledge through constant training. The level three personal trainer is the personable face of fitness.
Want to know more about what being a level three personal trainer really means? From initial training to growing your business, use this guide to help you understand what it takes to become a level three personal trainer, and how your qualification could take you into an exciting career.
This guide includes:

Profile of a Level 3 Personal Trainer
While there is no such thing as a perfect 'type' of a personal trainer, there are a few essential skills to have that'll help you succeed in the fitness industry:
Knowledgeable – Being a level 3 pt requires a diverse knowledge base. A proficiency in; anatomy and physiology, nutrition, and exercise programming will boost your employability and the number of clients you can train, helping them get the best results. A level three personal trainer should also have an active interest in the fitness industry, researching the latest trends and techniques.
Motivational – As a level three personal trainer, you will need to be a great motivator. Your passion for the fitness industry will help your clients see the bigger picture and drive them to reach their goals. Having a fundamental knowledge of behaviour change coaching will be useful.
Adaptable – the fitness industry is always changing, and personal trainers are often at the heart of it. You will be responsible for training people 1-2-1 which requires an individualistic approach to every client. Understand the world through your client's eyes, and you will be able to understand their needs to get the results.
What qualifications will I need to get started?
A level three personal trainer is someone who has completed their level three personal training qualification; the minimum requirement for the industry if you want to work with clients. By completing this qualification, you are showing future employers and clients that you are a fully competent, and confident, fitness professional trained to a high standard set by regulators such as CIMSPA.
To complete your level three certificate, you will need to have a level two gym instructor certificate that teaches you the fundamentals:
Working the gym floor
The basics of exercise programming
Safe and effective equipment use
Anatomy and physiology
This can either be a separate qualification or included in your level 3 course (top tip – always check the course provider includes a level two if you don't already have it).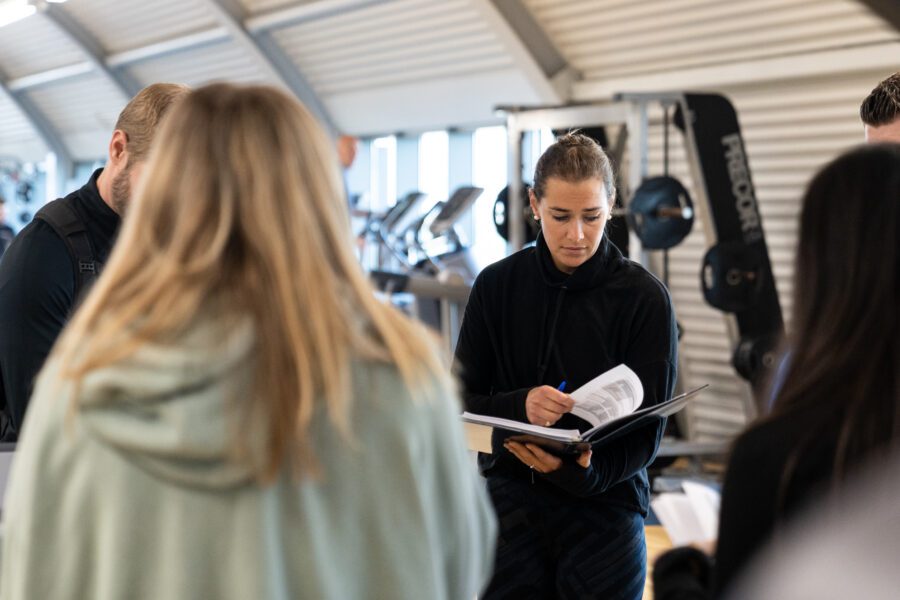 What will You Learn on a Level 3 Personal Training Course?
Personal training courses, such as ours, work through a process called 'blended learning,' which means you'll be completing some content at home on your own, as well as attending practical workshops and assessment days.
Home online study is a great way to fully explore the fundamentals of your learning, ready for practical workshops. It's also a great way to boost your theory knowledge around your schedule. Some topics of online theory are:
Anatomy and physiology (things like the muscular system, skeletal system and circulatory system)
Essentials of nutrition
Health and safety
Programme design
Client behaviour change.
Face-to-face content typically includes practical coaching skills and client coaching assessments. These are the sections where you take your theoretical knowledge and apply it to other people to build your confidence when it comes to working after graduation. This is an essential feature of your course if you want to build confidence in instructing, as well as gain real-time feedback from an experienced tutor. Some key practical courses you are likely to take are:
Programming and coaching workshops
Core training
Resistance training
Exercise for fat loss
What is an Employed Level 3 Personal Trainer?
An employed level three personal trainer is someone who works inside a gym or fitness facility under their brand.
Once you are qualified, there is a lot of flexibility as to where you can put your training into action. Being associated with an established leisure facility can be a great way to grow your skills and diversify your training within an existing client base.
Our best advice is to think about the kind of environment that you'll most enjoy working out of. To read our full list of employment options for gym instructors and personal trainers click here.
Once you are employed, you will be responsible for training clients one to one, delivering classes, and aiding in the smooth running of the facility. Some aspects of your role might be:
Training clients – you will have a number of clients to train throughout the day. Most clients want to book personal training sessions either before or after work, so your busiest times of day will often be 6 am to 9 am and then 5 pm to 8 pm.
Creating exercise programmes
Teaching classes
Working the gym floor – this could involve helping with gym inductions, maintaining equipment, advising clients, etc.
Admin and business development – even if you are employed within a gym, you will still need to be highly organised with keeping track of your clients progress, who you are training, and how to grow your client base.
From this, there is the potential to grow and develop your services into other areas of training, such as circuit training, indoor cycling instructor, or kettlebell trainer. There is a clear progression route within the sector to managerial roles, tutoring specialists, and into the corporate wellness sector.
What is a Self-Employed Personal Trainer?
If you decided you want to be self-employed, you have several options where you can train your clients:
Find your own gym space – gives you more control but can be very expensive in major cities. You'll also need to purchase equipment, which can be a significant upfront cost.
Travel to clients' homes – a very low-cost option, but you'll have to make sure you have a car, and factor in travel times into your diary.
Pay rent to a local gym to use their space with your clients – tends to be moderate cost (£300-£500 on average) per month, with the added benefit of being able to recruit gym members as clients. (You'll need to make sure that you properly research the gym, the number of personal trainers already working there, and the rental agreement)
Run an online personal training business – this is a low-cost option, and you can train a wider variety of clients without limitations on travel, class size, or lockdown measures. For more information, read our blog here.
Your days will be like that of an employed personal trainer, with the addition of more business skills such as networking and building your brand. To help our students prepare for this, we have included a 'Building your Fitness Business' course in with our Level 3 Personal Trainer course as well as business courses on our online CPD platform ProZone. This will help you develop the skills you need in the training to give you the confidence to hit the ground running after graduation.
Other things a Self-Employed personal trainer will need to consider are:
Insurance – you need to make sure you have the right level of cover for how and where you train your clients. Having Public Liability Insurance and Professional Indemnity insurance is required by law to make sure you are covered against injury and improper advice. For more information about levels of cover, read our insurance blog here.
Tax – as you are a businessperson, you will need to make sure you are registered with HMRC and have your accounts in order.
Administration services – you will need to keep a track of client booking and numbers, especially if you are training online and don't need to book gym spaces.
For more information about being a self-employed personal trainer, read our guide here.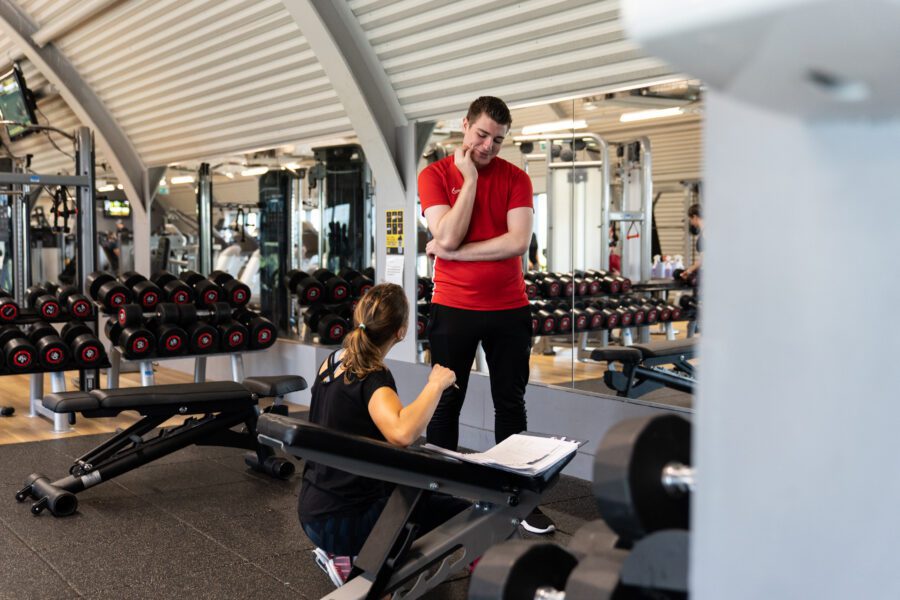 To Conclude
In order to work as a level 3 personal trainer, you will need to have completed the following things:
Level 2 Gym Instructor qualification
Level 3 Personal Trainer qualification
Gain the right level of insurance for where you want to work
From there, you can diversify your career into many exciting opportunities. Whether you become employed in a fitness centre or start up your own business, you can develop your skills as a fitness professional and make a real difference in your client's lives. An important thing to remember is that, as a level 3 personal trainer, your learning is never finished; there will always be new opportunities for you to develop yourself and expand your client base. To find out more about upskilling post-graduation, click here.