An increasing number of individuals are choosing to become more active with their bodies. There are many reasons why this is happening.
It might be the recent world pandemic, the fact that technology allows online fitness or just the natural process of human evolution.
If you're wondering whether it's time for you to take advantage of physical activity and workouts, or become a personal trainer the following statistics and trends might just convince you it's the right thing to do in 2023.
General Fitness Statistics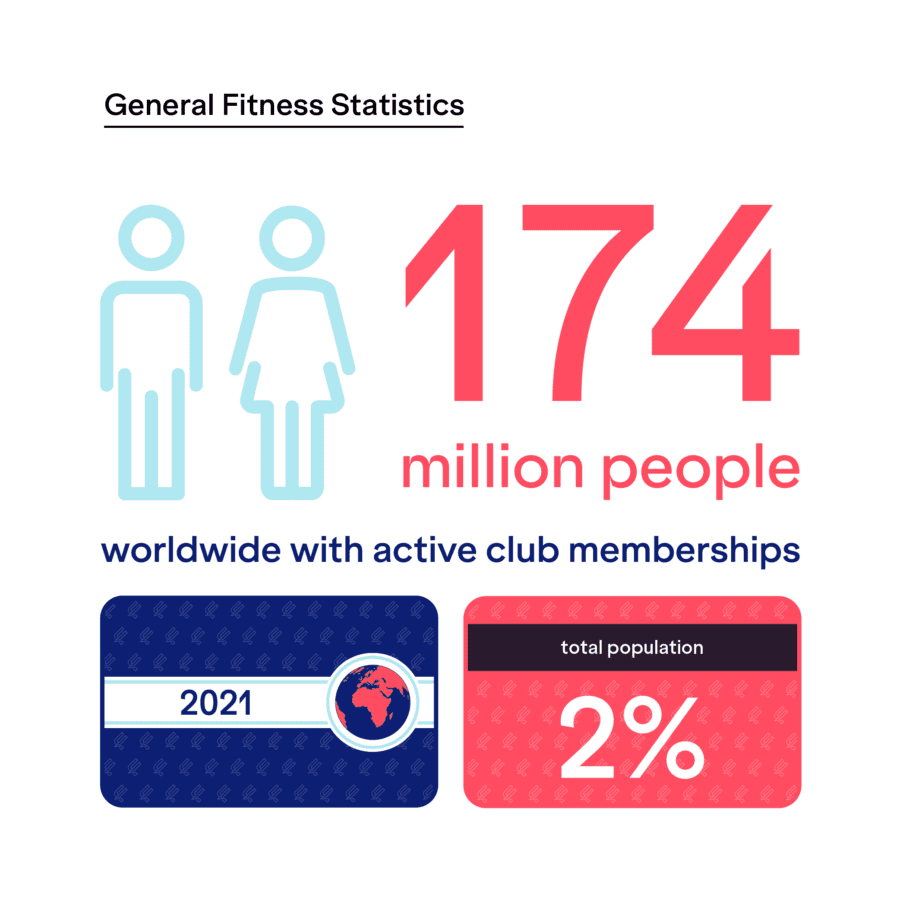 It's estimated that 174 million people worldwide had an active club membership in 2021, which is about 2% of the total population.
The global gym industry was estimated to be worth $96.7 billion in 2020 and it decreased to $87.23 billion in 2021.
In the world, there are over 200,000 health and fitness clubs.
As of January 2022, 25% of all health and fitness facilities closed and didn't reopen.
Only 22% of hotel guests use the hotel health clubs and gym facilities.
It's estimated that the cost to build a new health center for a hotel is approximate $220,000 and $16,000/year to maintain it.
Memberships Global Statistics and Trends
The United States, Germany, and the United Kingdom have the highest number of fitness club memberships.
LA Fitness is the largest Health Club in the world with 8,9 million members with around 120,000 joining the club each year and reporting $2.1 Billion in revenue in 2021.
About 49.9% of people go to the gym at least twice per week.
About 27.3 million people went to the gym 100 times (or more) in 2019.
About half of new gym members quit in the first six months.
38% reported they quit due to high membership costs.
23% reportedly quit because they don't use their membership.
According to IHRSA, there is a clear correlation between high income and gym activity. Those earning $150,000/ year report going to the gym 100 times a year.
On average, the cost of gym membership in the UK is £40 per month.
The pay-as-you-go option for gyms costs, on average, £4.95 for the day pass.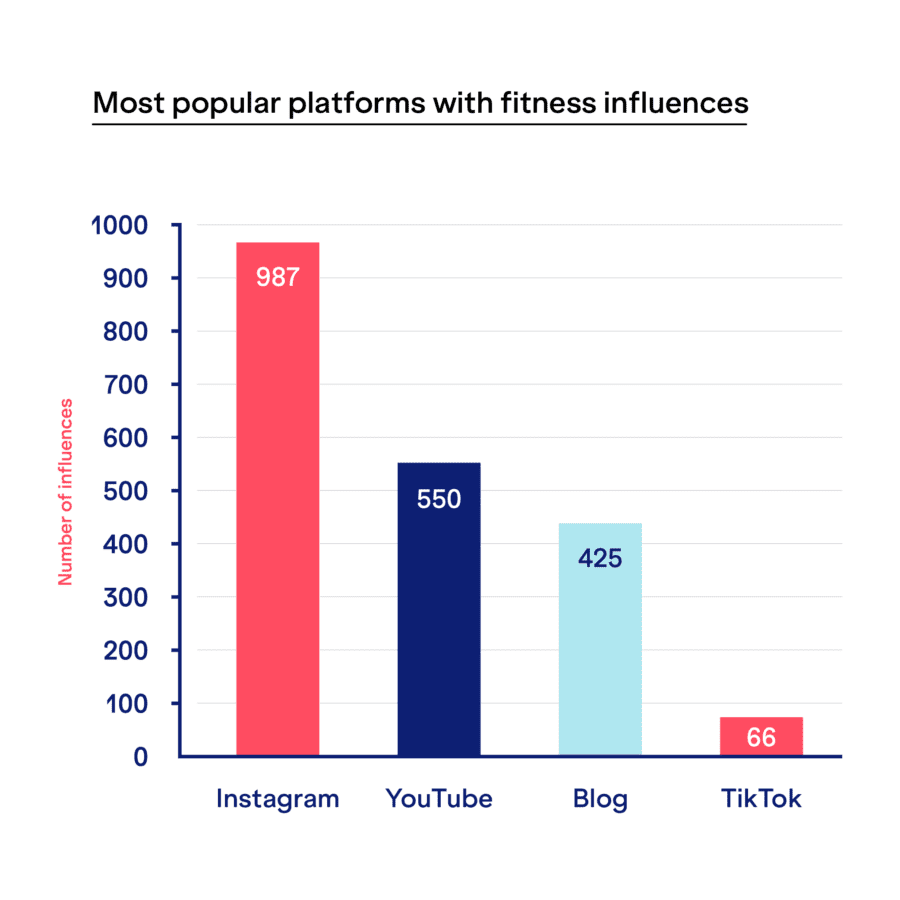 Instagram and YouTube are among the most popular platforms for fitness influencers.
180 out of 400 million Instagram users displayed the hashtag #fitness in 2021.
The average number of YouTube fitness influencers is 326,863 and on Instagram 232,502.
TikTok shows the highest average engagement with 9.3%.
1.6% of Instagram fitness influencers have more than 1M followers.
11.6% of Instagram fitness influencers have less than 15K followers.
Online fitness statistics
The online fitness market share passed $5 Billion in 2019 and it's growing at 30% every year.
According to a poll of customers, 72% prefer the flexibility of online exercise over traditional "gym membership" methods because they can enroll in a class anytime they want.
People spent 1,300% more minutes doing workouts online from March to August 2020 because of the Covid pandemic.
Live streaming fitness video usage grew by 971% from 2020 to 2022 (post-covid).
In 2021, 72% of fitness club owners created and started offering an on-demand or live streaming service, an increase of 25% from 2019.
Fitness apps market leaders facts and statistics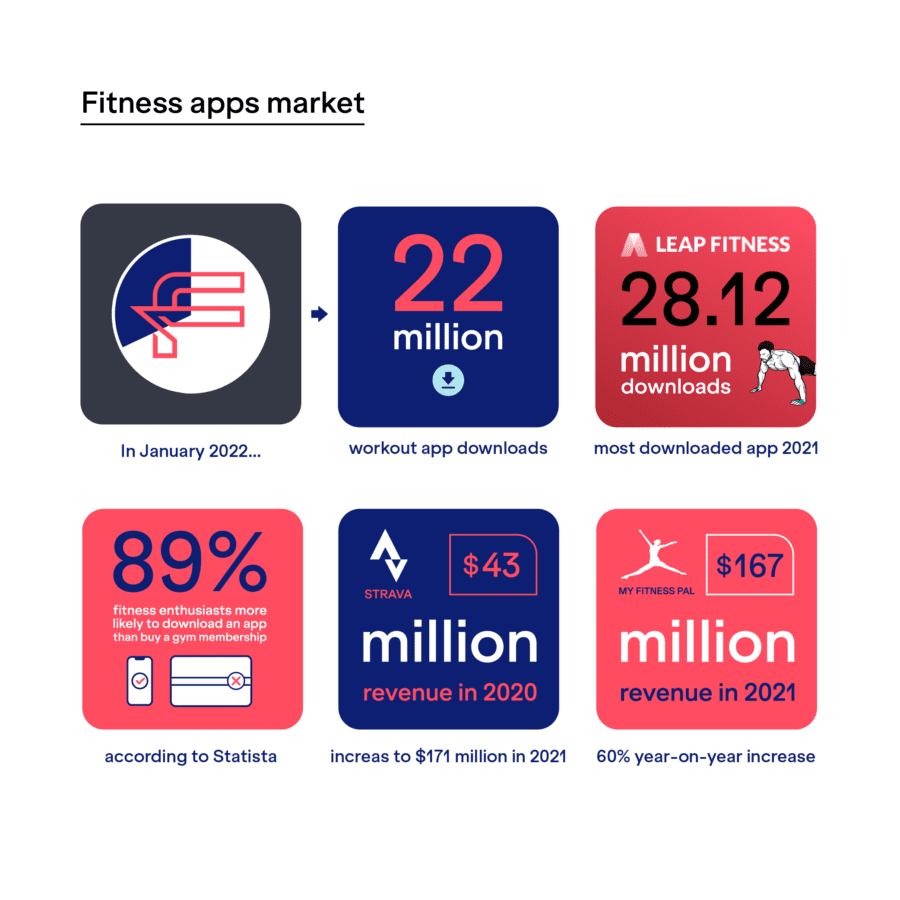 MyFitnessPal reported $43 million in revenue in 2020 and increased to $171 million in 2021.
Strava followed suit with $167 million in revenue in 2021 and a 60% year-on-year increase.
MyFitnessPal grew to 200 million users in 2020, an uplift from 180 million the year before.
In January 2022, with the new year resolution, more than 22 million workout app downloads were reported.
In 2020, all fitness apps received a boost in users by 45% for a total of 330 million and the trend remained positive throughout 2021.
Home Workout (Leap Fitness) was the most downloaded app in 2021 with a total of 28.12 million downloads.
According to Statista, 89% of fitness enthusiasts are more likely to download an app than buy a gym membership.
Fitness apps have on average a 22.1% margin of error, compared to 6.7% of normal phone apps.
Consumer & Spend fitness statistics
In the US, an online fitness coach can cost from $30 to $100 per session. The average session duration is 30 to 60 minutes.
In the UK, the average price for an online fitness coach or personal trainer is £35 for 50 minutes session.
The fitness industry is estimated to be worth £3.9 billion by 2022, making it one of the most valuable industries in the country.
Small fitness studies account for 42% of all the membership revenue globally.
Personal Training Statistics and Employment Trends
Industry Growth in the UK
When it comes to job availability and security, the future looks bright for Personal Trainers.
According to Statista, the market size has been growing steadily and it will grow from 600 million GBP in 2015 to 670 million GBP in 2020.
The number of fitness instructors according to IbisWorld in the UK is 57,000 and has been growing at a reach of 2.3% from 2014 to 2019.
As we know, 80% of personal trainers are freelance, which means they run a business.
While Statista and IBISWorld provide estimates for personal training jobs, these projections don't give many insights into the growth of personal training as a profession.
Skills Employers Need
78% of candidates lack the skills required to be successful
70% of candidates lack gym floor experience
83% of candidates have unrealistic expectations of earning potential
78% are missing commercial acumen
74% don't have behavior change skills or social skills
Skills Employers Are Hiring For
At Future Fit, we researched 200 Personal Training jobs on Indeed and over 1,000 jobs on Leisurejobs to learn what skills employers are requiring when they recruit.
98% of employers don't require commercial acumen in their job descriptions.
Most common qualifications required: 29% of jobs require a minimum Level 3 qualification, 12% require boxing, 10% level 2, 9% Yoga, and 2% Pilates.
What does the data show:
So, this data shows that, while employers need business skills, they do not necessarily look for them when hiring. This is probably because talents with PT and business skills together are very hard to find.
So how do employers fill the gaps? They train the candidates with the most basic Personal Training skills to teach them how to run a business.
Locations With Most Listings
London and the South East are expected to represent the two largest concentrations of personal trainers in the United Kingdom, with a combined share of 47%.
Considering the area is geographically small, there is a high density of jobs in London and the South East.
Even if you live in a remote area, you can still find a Personal Training job, with the North of England hiring 21% of the total jobs analyzed on leisurejobs.com and Indeed.com
FAQs
Which market is more prominent: online or face-to-face fitness?
The online market surpassed $5 billion in 2021 and the gym market share is valued at $32 billion, which is 6 times more.
How many personal trainers are in the UK?
According to Statista, there are approximately 69,300 fitness trainers working in the United Kingdom as of 2022, compared with 39,400 in 2010, an increase of around 29,900.
More on employment statistics in fitness
What is the success rate of a gym?
Less than 50% of new gyms and fitness centers are expected to survive beyond the first 5 years in business.
What is the largest gym in terms of revenue?
The three largest gym chains globally are LA Fitness ($2.09 billion), Life Time Fitness ($1.75 billion), and 24-Hour Fitness ($1.51 billion).
How many gyms are there in the UK?
In the UK, as of January 2022, there were over 7,000 gyms, including large health clubs and small boutique fitness centers.
How many health clubs and gym companies are there in the UK?
There are an estimated 7,200 gym and health clubs in the UK, compared to 112,676 in the US.
Conclusion
We hope you found these fitness statistics enlightening, and they've made you appreciate how vital online and offline fitness is for the future.
The recent pandemic has made many gyms and health club owners rethink their approach to making sales, and the popularity of fitness is likely to continue to increase over the next few years.
We have the following sources to thank for the information we're sharing with you.
Policy Advice
Statista
IHRSA
Club Industry
V12 data
Run Repeat
Wellness Creatives
Zippia