In this guide, you'll find everything you need to know about becoming a fitness influencer.
So if you want to grow your following and become influential, keep reading.
We have also interviewed many fitness influencers to find out more.
What is a Fitness Influencer?
A fitness influencer is a fitness enthusiast known and trusted by other fitness enthusiasts and consumers on social media.
They are usually very influential, and their opinions matter in online fitness circles.
These fitness influencers use their credibility as fitness experts to encourage people to purchase products and services from different brands.
Additionally, they usually have thousands of followers on multiple social media platforms, which come in handy in getting deals from other fitness brands.
How to become a Fitness Influencer
Highlighted below are the steps you can take to become a fitness influencer on social media platforms.
Start
It is not enough to dream of becoming a fitness influencer on social media –you have to start from somewhere. Most people continue to wait for the ideal moment that never comes, and they miss out on many things because of this.
Instead of waiting for when you have all the fitness equipment, best gym membership, or picture-perfect workout attire to become the ideal fitness influencer, you should start as you are.
Starting as you are doesn't mean that you will not be professional and be the best version of yourself; it simply means that you will not wait around for everything to be perfect before starting.
Jordan Hosbein, a certified personal trainer and fitness influencer, advises that you should be focused on getting better than before rather than comparing yourself to other fitness influencers.
Besides, once you start, you'll realize that you are just a couple of steps away from becoming a fitness influencer.
Find Your Niche
Once you have decided to start, the next step is to select a niche and define your target audience.
This step is critical as the fitness space is already crowded with many fitness influencers – meaning the only way you can stand out is by narrowing your influence to a particular niche.
There are numerous fitness areas, like yoga, Pilates, Cross Fit, weight lifting, aerobics, bodybuilding, marathon running, personal training, nutrition, cycling, etc. Plus, it is best to have prior knowledge of your selected niche.
It is not advisable to be a generalist as most people have distinct interests that they want experts to address. Most people will not trust your advice if you're going to be a general fitness influencer.
The saying "Jack of all trades and master of none" comes to mind here. Also, by focusing on one fitness niche, you will be able to grow your audience quicker, build audience trust, and become an authority in that field.
Research Your Niche
You should research the niche you selected before posting to ensure that you don't start your influencing journey blind.
One way to do this is by searching for successful fitness influencers and brands in your niche.
Study how these brands and influencers post content and engage with their audience.
Which type of influencers do the brands collaborate with?
What kind of content keeps people hooked?
Plus, you can use the information you get from your research and improve on it.
Define Your Goals and Develop a Strategy
You need to be clear about your objectives to become a fitness influencer.
Do you want to encourage the vegan lifestyle, or do you want more people to be interested in a particular sport?
How many followers do you need for your short-term and long-term goals?
Who are the people you want to target?
Answering these questions will help you define and streamline your goals. Besides, people without goals tend to fail because they don't have any plans to guide them.
After you have defined your goals, the next step you need to take is to develop a strategy, as a goal is futile without a strategy to fulfil it. This strategy will include how many times you post, what time of the day you should post, which social media platform to use, how to build engagements, and how to get brand partnerships.
Don't forget to look into what type of gymnastics software you should use, as these tools can help you manage clients once you get them.
There are different social media platforms, and it is not advisable to focus on all of them. It is best to choose a platform or two to focus your influencer energy on.
As a beginner, you will not be able to create content for all the different media platforms, but you can scale your content to other platforms as you grow.
Plus, focusing on creating content for a single audience on a single platform will build your growth and credibility.
Some major platforms you can choose from include YouTube, Instagram, Facebook, and TikTok.
Find Your Tone/Voice
You need to find your own voice if you want to become a fitness influencer.
William Rivers, the Founder and Chief Editor at Seniorstrong stated that you should ask yourself what a person's first impression of you would be if they come across your profile.
Whatever impression they get will determine whether or not they follow you. Your job as a fitness influencer is to help people with their varying fitness challenges, and your tone must reflect this. Additionally, you have to be consistent with your voice, which will help you build a trustworthy brand.
Build and Interact with Your Audience
Your success as a fitness influencer is depended on your audience, so you'll need as many engaged followers as you can get to increase your chances of success. To get engaged followers, you have to interact with them and treat them as friends.
Respond to their replies, ask questions, or run polls. Even though your follower count can lead to higher pay, most brands now focus on engagement rather than reach. This means that you should try and engage your followers even though they might not be as many as you would like, as the more you engage them, the more they will grow.
Build Credibility and Become an Authority
This step is as important as the others previously listed as they all work hand in hand. As a fitness influencer, you need to be known as an authority on your fitness niche to enable your followers to trust you. If you are going to be giving health and fitness advice, you should get trained in that niche.
Simon Byrne, the owner of bodiesbybyrne, had to get certified as a nutrition coach and a fitness instructor to improve his knowledge and build his credibility as a fitness influencer. He also built his credibility by writing for popular supplement companies in the UK, like Bulk and Myprotein. You can build your credibility and become an authority by staying up-to-date with the latest news and answering niche-related questions.
Post High-quality Images and Videos
This may be an obvious step, but it needs to be stated. You must post high-quality pictures and videos, regardless of the social media platform you are targeting. Followers will rather go for eye-catching content than low-quality ones, and you don't want them to skip your posts. Besides, when people like what they see, they are more likely to follow you.
You can invest in good lighting to help increase the quality of your pictures.
Be Consistent
Just as fitness entails consistency, the same goes for becoming a paid fitness influencer. You have to be consistent with your posts, as inconsistency will lead to you losing followers.
Brands also want to work with influencers with a consistent mode of operation.
Create a social media schedule to enable you to plan what and when to post on social media. You can also use applications that allow you to schedule your posts ahead of time, staying on track.
Build your Brand
While having a social media profile is key to becoming a fitness influencer, you also need to treat your brand like a business. This means you need a business email, website, and consistent branding across all channels.
Simon Byrne advises that fitness influencers treat their influencer status like a personal brand to make them approachable to brand managers. Additionally, you can expand your fitness brand to include custom workouts or fitness apparel.
Once you've built your brand and following, you can reach out to potential brands and sponsors. Before reaching out to them, you need to create a media kit that sums up your brand, audience, and offerings. After creating this, you can research and compile a list of companies you want to work with. But before you send any media kit, you must follow and engage with their social media posts.
If you do not hear back, don't be afraid to follow up. Take any feedback that you get from any rejections to make your next pitch better. You should also note that your media kit will evolve as your brand grows.
Track Results
Data is an important tool to any fitness influencer as it doesn't lie. Track the performance of your social media accounts from reach to engagement, profile visits, link clicks, and new followers.
Once you get a sponsored post, you will need to give it your all to make the sponsored post successful. You also need to record all the stats and results to send to the brand as a report.
This way, the brands can understand what exactly they paid for. Tracking results also helps enhance customer satisfaction and increases the probability of repeat business. Plus, you can add these growth trends to your media kit to help you secure more sponsorships.
Start Blogging
Creating a blog website is a good way to get thousands of followers and build your credibility. You can dedicate your blog to providing helpful fitness advice to fitness enthusiasts.
You should include your social media buttons in your blog posts to ensure your followers share them with others. You can also include guest posts from other influencers and professionals, or you can write guest posts for other reputable people in the industry.
For example, Jordan Hosbein, who is also the owner of Iron and Grit Fitness, built his fitness influencing career by creating a blog dedicated to sharing workouts, recipes, and nutrition tips.
Host Social Media Giveaways
Hosting social media giveaways is a quick way to increase your followers and brand awareness on social media.
These giveaways can be centred on your account or the brand you are advertising, and the prizes should suit your fitness niche. Your prize should be something your followers will be interested in, like a Pilates ball if you are a Pilates fitness influencer.
You should have clear-cut instructions on how followers can participate and state if there are any terms and conditions.
Connect With other Influencers
You should connect with other fitness influencers, especially those in your niche, to help you grow your influence. You can start by sharing their content on your social media or blog to gain their trust.
Then, you can personally contact them to build a rapport.
This step is important because if these successful influencers in your niche talk about you, it can help to grow your follower base.
Besides, you must ensure that you are connecting with influencers that complement your brand voice.
What expert fitness influencers are saying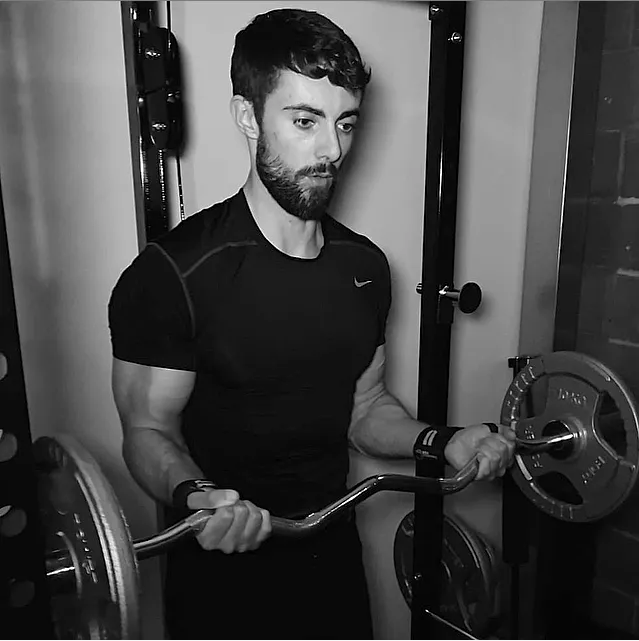 Why do you want to be a fitness influencer? 
Initially, I was looking for a way to grow my client list for online coaching.
After doing industry-specific qualifications to improve my knowledge and provide some credibility to my offering, I still needed a way to attract clients. This is because most people see qualifications as a baseline expectation rather than a unique selling point.
All of the people on social media with a large client base appeared to have an "influencer status" and large following so this seemed to be a more obvious route into gaining a solid client base and growing my business.
How did you become one?
I initially grew my influence by writing for a number of well-known supplement companies in the UK, which included Myprotein and Bulk. This allowed me to reach a significantly larger audience and use this as a platform for social proof.
From that point, I started my own fitness website in order to attract readers and used my affiliation with well-known sponsors to build trust and be seen as an authority in the space.
This helped to rapidly accelerate my reach and this then lead to brand affiliate opportunities (including The Protein Works and Pulseroll) alongside a growing list of people enquiring about coaching services.
What helped you in the process? 
As mentioned, using large and established companies to get my name out there was instrumental in building an initial level of trust and authority. Without this tag as "a writer for the supplement industry" I wouldn't have that foundational base to be seen as a trusted source of information.
The fitness industry is saturated so partnering with brands is something that really helped build my credibility early on.
I also took advantage of my writing background to build a different kind of audience.
While most fitness influencers focus on social media, I tapped into an often underserved market in the form of SEO and email newsletters.
Whenever someone has a fitness-related issue, they will often turn to Google for the answer and I made it a priority to appear frequently in these search results for topics within my area of expertise (nutrition and supplementation).
I was quickly able to connect with an audience, help the readers with their issues (which is key), and build an active and consistent readership.
Therefore, looking for opportunities or gaps outside of social media really helped.
You'd also be surprised at the number of companies that also take note of this. Most of my brand partnerships come from the company marketing team emailing me directly because I'm so active online and show up where their desired audience also goes.
When people Google an issue, a product is often a solution and companies know this and I have therefore acted as a bridge at times between the customer with the issue and the company with a solution to it.
What advice would you give to a beginner? 
Firstly, you hear this advice all the time but you need to find a unique selling point and really lean into it. It can be difficult to gain initial traction and get some followers or subscribers so by dominating a small section of the market you can build that initial list of active followers to use as your foundation.
TikTok recipes, Instagram workout videos, or blog posts or all methods you can utilise but you need to be consistent to capture your desired audience. You could produce content for tall lifters, people dieting with diabetes, or whatever your specialist area is.
Once you have this, go deep on it, produce a load of content and really establish yourself as the go-to person for that one specific thing.
Secondly, you need to be approachable to brand managers.
Social profiles are the first step but you also need a business email, website and consistent branding. Companies care about the number of followers but they also want to work with professionals.
Why do you want to be a fitness influencer?
I have always been a food enthusiast. But growing up, I struggled with maintaining my weight and diet. This is heavily influenced by social interaction and self-confidence. I hope to simplify the path for all those who struggle with the same.
2. How did you become one?
I picked my niche as a fitness influencer. Using social media to promote and garner an audience. This helped me gain significant recognition. Then I collaborated with sponsors and advertisers to widen my audience.
3. What helped you in the process?
The drive to motivate and improve this path for others helped me stay motivated and achieve my dream.
4. What advice would you give to a beginner?
If you believe in yourself and your dreams, you can achieve anything.