Despite criticism of the superficiality, there is a growing movement on social media, particularly on Instagram, for users to share with more authenticity. The trend, driven by the wellness movement; the draw of 'achieving your goals' encourages people to seek and share step-by-step advice on how to live better.
There is no formal Life Coach qualification or certification necessary for Life Coaching although certifications are available through awarding bodies or training providers. It simply requires a willingness to openly share their experiences and day-to-day living through their Instagram account.
By exemplifying their own coaching philosophy, their content enables their followers to see how they can feel empowered, connected and fulfilled.
Instagram Life Coaches are tapping into a prevalent desire for mental health wellness. But in such a thriving environment, who are the Life Coaches providing content worth following? The list of Top Life Coaches includes….
Alyssa is an internationally-renowned coach, and founder and CEO of the Institute of Coaching Mastery.  Having trained as a Clinical Somatic Psychotherapist, her soul-centred qualification certifies hundreds of coaches a year in her methodology. Her Instagram feed offers insight into her coaching methods- dedicated to women's empowerment and helping people reach their potential.

2. Alyse Parker @alyse
Alyse Parker inspires her 166,000 followers to live their dream lives, using the challenges she's faced as fuel to support others. As a Holistic Wellness Coach she helps her clients to transform their lives via her online courses or wellness retreats. Through 'Conscious Communication' she aims to create a framework for connecting with others and creating a 'new paradigm on Earth'.

Motivational Speaker Morgan Bullock uses her Instagram to share words of wisdom and inspiration for personal development. It's all too easy to be distracted by how aesthetically pleasing her feed is, but past the gorgeous imagery and graphics, the content is thought-provoking and optimistic.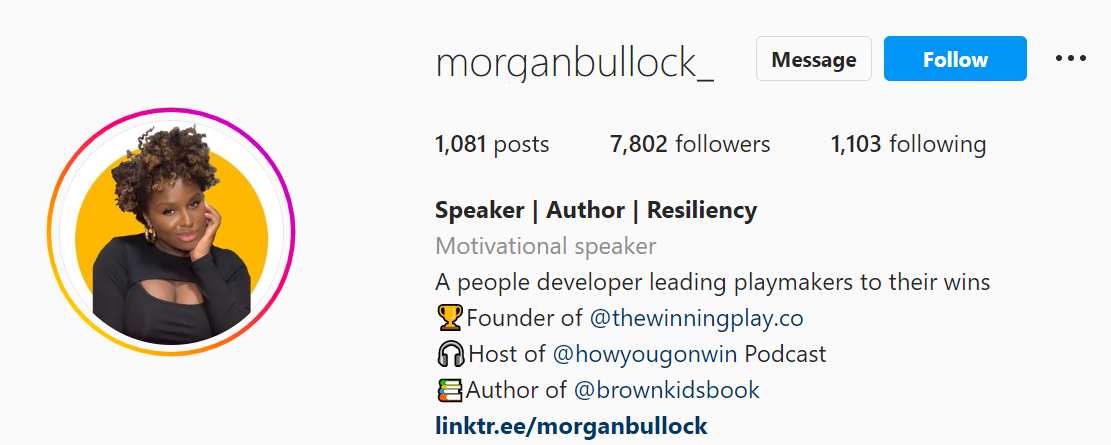 With regular appearances on the Today Show, a best-selling book and having founded The Coaching and Positive Psychology Institute, it's amazing that Life Coach Valorie Burton has time for social media! Sharing a mix of personal and professional images with her 36,000-strong audience, Valorie also delivers affirmations and motivations to inspire her audience.

Through his journey with addiction and alcoholism, Adam has learned to overcome many difficulties and now uses that experience to support others. Adam has worked with celebrities, athletes, veterans and homebodies. He believes that his coaching programme, 'The Hero Project' can change the lives of his clients in just 90 days, providing them with spiritual fitness, and transforming pain into power.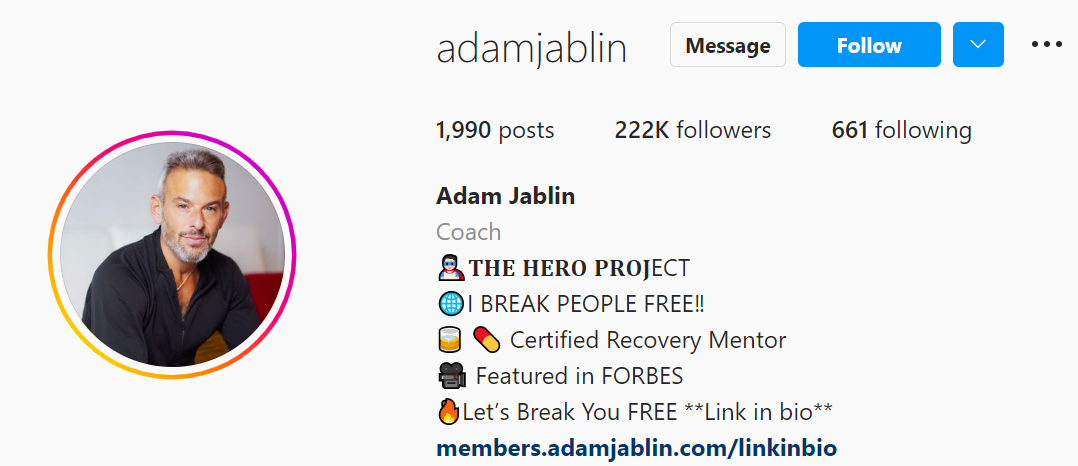 Eva Redpath is a Wellness Leader and Solution Focused Life Coach.  She's recognized as Canada's first Nike Master Trainer and has an almost 24,000 strong follower base on Instagram. Her glamorous content shares glimpses of her life alongside the methods she uses to stay at the peak of mental and physical health.

Tomas believes that 'OK is NOT enough'. Through his coaching, he takes clients through a three-step process that aims to provide ambitious entrepreneurs and professionals with the success they dream of. Having gone from selling food from a cart to running his own coaching business, Tomas aims to create 'a ripple effect of people so successful that they not only create the life they want, they also become the inspiration for others to do the same.'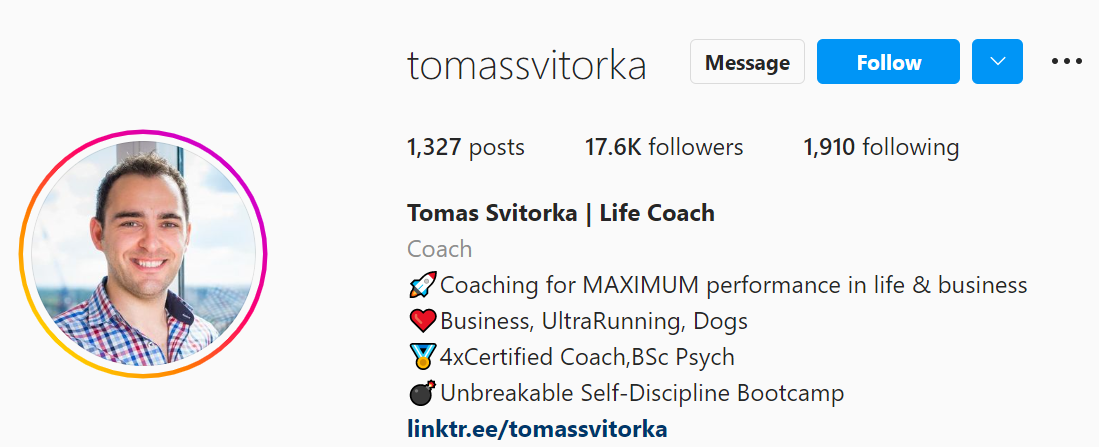 As a best-selling author, producer and television personality, Iyanla Vazant has a wealth of experience in communicating her message; guiding you to 'new-level living'. Her 1.6 million followers on Instagram can expect high-energy imagery combined with excerpts from her podcast, 'The R Spot'.  Her voice alone provides reassurance and grounding, but her words give a real vision of her style of Life Coaching.

In her own words, Sam is a 'born intuitive, educator and healer' who aims to help others lead abundant and aligned lives. As a Life Coach and Business Mentor she aims to help her clients identify the 'why' behind their goals. Sam uses NLP (Neuro-Linguistic Programming), EFT (Emotional Freedom Technique) alongside other modalities to help them silence their inner critic, soothe their inner child and realise their dreams.

Growing up in an abusive home, Tony Robbins dropped out of college and worked as a janitor before he met the motivational speaker that turned his life around. Overtaking his mentor, he became America's #1 Life Coach and Business Strategist. He's not only worked with U.S Presidents, world-famous musicians and leading sports stars, but also with over 50 million people across the world. Millions have been inspired by him through his programmes, videos and seminars.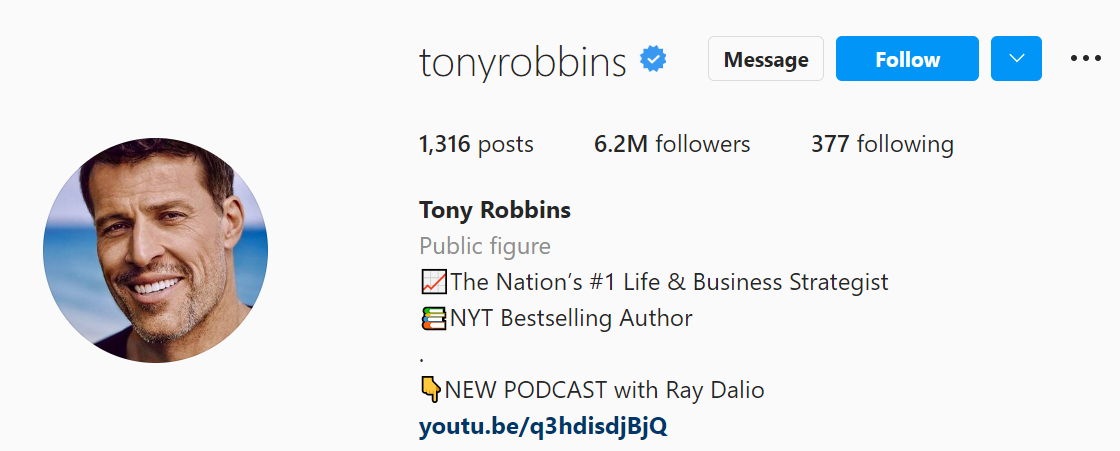 Tamu Thomas wants us to realise that feeling emotionally and physically depleted should not be normal. Her coaching aims to help women care for themselves to create space for healing and transformation. With an interest in somatics and behavioural neuroscience, Tamu uses evidence-based, trauma-informed tools to help freelance and entrepreneurial women befriend themselves and lead more fulfilled lives.

Rebecca's coaching aims to help women work on the relationships in their lives, starting with how they feel about themselves. Having experienced the benefits of Life Coaching, Rebecca became certified in mind-set management coaching, NLP and time-line therapy. These qualifications enable her to equip her clients with the tools to identify and resolve unhelpful thought patterns and replace them with positivity.
Having originally featured in the famous self-help book, 'The Secret', Lisa has built a platform as a Transformational Coach, specialising in personal and business development. Her workshops aim to create masterful educators and speakers with tangible strategies for building and growing their businesses. Her Instagram feed is consistently inspirational and uplifting.

Rebecca Lynn is the founder of the Abundant Life Path Coaching Certification- specialising in training spirit-led coaches. As a Life and Love Coach Rebecca Lynn has amassed a following of over 62,000 followers, She also works as a motivational speaker and as CEO of multiple global brands.

Upon becoming an accredited life coach with additional qualifications in resilience, NLP and applied neuroscience Charlotte felt, for the first time, complete. She helps others to find their purpose, instigate change and reach their potential. Charlotte combines her passion for Life Coaching with her love of the ocean, using the Blue Mind Method to run immersive Stand-Up Paddleboard (SUP) wellness retreats.

With over a decade of working as a successful Life and Business Coach, Rosetta Thurman is the ideal person to run her own coaching course. She's generated over $5 million in revenue from coaching, but most importantly she's been able to 'inspire, educate and empower thousands of Black women all over the world to create their ideal lives!'

An 'unshakeable optimist', Marie Forleo is dedicated to helping her clients become who they want to be. She slowly built her coaching business into a world-class training programme named in the Inc. 500. She believes that a 'creative and entrepreneurial approach is critical to full blossom in the modern world'.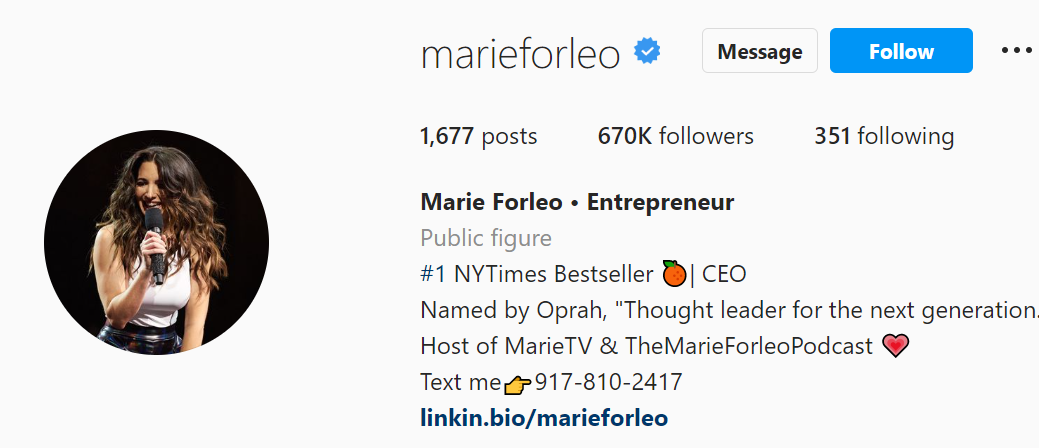 Promoting self-healing and self-growth, Yasmine uses her Instagram to share words of support. She encourages her followers to 'Say it with me' and vocalise her affirmations- creating a real sense of community.

Jason is a Licensed Therapist and Confidence Coach, helping high achievers to eliminate self-doubt. His openness to collaboration really sets his Instagram apart, displaying his confidence by being unafraid to share the stage with other experts in their field. His down-to-earth approach and practical advice have seen him offering evidence-based coaching for over ten years.

Nora Dekeyser became a Relationship and Dating Coach after working as a matchmaker. She was rated as a top Female Life Coach in 2020 and was featured in Business Insider, Forbes, and ABS News. With more than 16,000 followers on Instagram, she promotes self-love and helps singles create healthy and fulfilling relationships.