Here is an example of a vacancy for Personal Trainers paid £20 to £57 per hour+ benefits in Finchley, North London.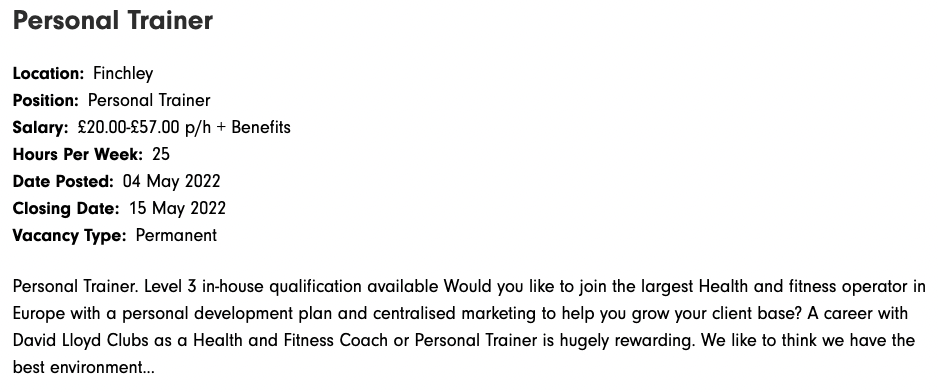 David Lloyd is essentially a leisure center company, which means they also recruit for health and safety as well as admin roles.
For example, they look for lifeguards to make sure their indoor and outdoor swimming pools are well guarded and safe.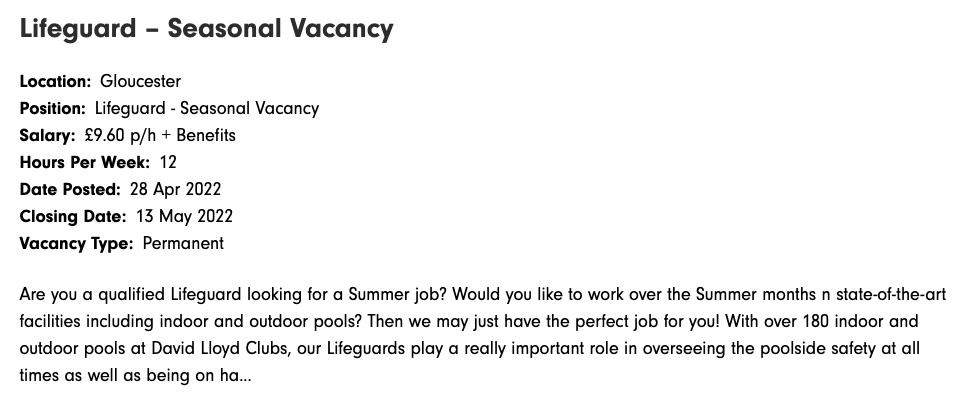 They also search for various roles in the management category including Food and Beverage Managers, Gym Supervisors, Operations Managers, and Head Chefs across the country.
At the moment of writing this article, they are displaying a staggering 329 vacancies nationwide. To search for all jobs please visit their career site. Once there, you can filter the search bar by location, job area, postcode, role type and department.
They have received 53 reviews from current and past employees on Indeed.com with a total rating of 3.2 out of 5 stars, which is not very encouraging.
The score seems to match what employees rated on Glassdoor, where the average score is 3.4 stars from 697 reviews.
Most of the complaints are about long hours and lack of work-life balance, whereas the good things about working for David Lloyd are the free gym memberships for all employees and the state-of-the-art facilities.
What is really important for David Lloyd?
Being one of the biggest companies to work for in the fitness industry, customer service is really important as well as making members feel great. A role at David Lloyd leisure centres requires also the following skills: great communication, ability to motivate and reassure and enthusiasm.