For those who love Pilates and all its benefits, becoming a Pilates Instructor can be a life-changing career move. If you're considering turning your passion for Pilates into a career and are deep in researching how to do so, one of the first questions you might have is what the difference is between Pilates Instructor and Pilates Teacher.
Look up the difference between a teacher and an instructor in the dictionary, and you'd be hard-pressed to tell the difference. These terms are often used interchangeably, but there are key distinctions between the two roles when it comes to Pilates. Here, we help you decode the differences so you can decide which is the right path for you.
Discover our Pilates Courses

Are there any similarities between a Pilates Instructor and PilatesTeacher?
Naturally, both Instructors and Teachers need a similar set of basic skills, including:
Familiarity with the practice
A love for working with people
Good fitness levels.
Both Instructors and Teachers are trained to teach Pilates at all levels, from beginner through to intermediate and advanced.
Another key similarity is that both begin with an entry-level Instructor course, which gives you the appropriate Pilates qualification to pursue a career in the industry. There are a range of Pilates training courses you can explore to kickstart your journey to becoming an Instructor, but those stepping into the fitness field for the first time may find that the Level 3 Diploma Pilates instructor course is a good place to begin. Some may choose to continue their study by taking on more advanced or holistic courses, such as Classical or Reformer Pilates.
Once you have completed a certification course, you can then begin to develop your teaching skills and this will be achieved by working with different types of clients and developing your knowledge through continuous professional development. Through experience, you will soon grow into a teacher.
What is a Pilates Instructor?
An Instructor is well-equipped to coach individuals or groups in practising Pilates in order to fully reap its benefits. They can effectively demonstrate Pilates movements, instruct participants to perform them correctly and provide feedback or motivation where necessary.
An Instructor should also be experienced in working with individuals of all ages, shapes and sizes. They can modify exercises during a Pilates class to accommodate participants with certain needs, such as pregnant women or individuals with reduced mobility. The Pilates Instructor Course provides you with all the knowledge and skills required to eventually grow into the teacher you aspire to be.
Want to Become a Pilates Instructor?
How is being a Pilates Teacher different?
Over time, this knowledge transfer helps improve and evolve their students' techniques and equips them to become self-sufficient, independent Pilates practitioners. In other words, education is a key part of their role – not just demonstration. Good Pilates teachers are good observers, who can also study a participant's movements, identify whether this indicates any muscular imbalances or postural misalignment, and teach them to correct or address these using the Pilates method. They critically analyse their students' physical abilities and limits to help them become better in their practice.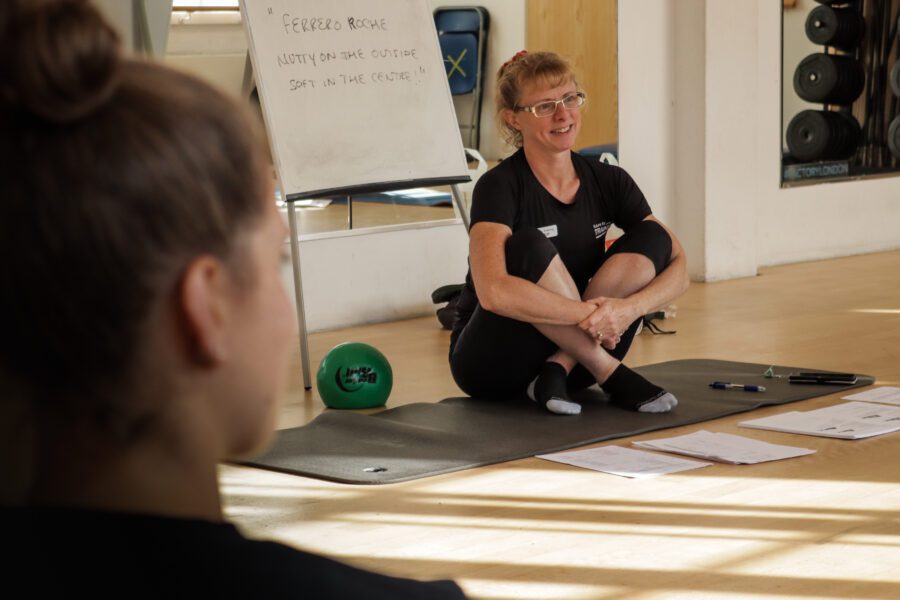 The bottom line?
Pilates Instructors and Pilates Teachers will learn the same base skills across their training, and both have the same opportunities in the industry for mat Pilates. How you choose to then develop your skills further will accelerate your career. Becoming a Pilates Instructor or Teacher can be a challenging but extremely rewarding experience that allows you to do what you enjoy for a living. Perhaps you're considering a mid-career switch? Or perhaps you simply love the Pilates method and want to help others strengthen and improve their overall health and fitness. Either way, take the first step towards a fulfilling new career by checking out our above industry standard Pilates Instructor courses.
Want to become more involved in fitness, or looking to turn your passion for Pilates into a career? Check out our Pilates Courses