Sports massages, which involve manipulating the soft tissue to help in exercise recovery and injury prevention, are very much in demand within the sports and fitness industry. Everywhere from sports clubs to spas, sports centers, and gyms are in need of sports massage therapists as they are beneficial to improving flexibility, reducing soreness, and enhancing muscle tissue healing of the members.
Besides, professional athletes, professional trainers, fitness enthusiasts, and other types of active people need sports massages guns to ensure that they function at their best at all times.
As a sports massage therapist, below are the most important tools to have in your hands, as they are needed to perform the different massaging techniques. In fact, you need to have the right equipment to make every massage enjoyable and keep your clients coming back. Opting for quality equipment is the best bet for you because they make your massage therapy easier but it can be quite daunting to choose from the wide variety of sports massage equipment available.
This article will provide you with all the different types of sports massage equipment you will need, whether you are starting your freelance service or joining an existing business. But first, let's discuss some factors you need to consider before buying any sports massage equipment.
Factors to Consider When Choosing Sports Massage Equipment
There are different types of people that need sports massages, from personal trainers to professional athletes. So, you need to consider the type of sports massage clients you want to target as this would set the pattern for the type of equipment you should purchase. Also, the place you would carry out your sports massage is also important.
Would you be carrying your equipment to clients' homes or would you be situated at a gym, spa, or sports center? Let's take a look at the other criteria discussed below, as they would help make the selection process easier for you as long as you adhere to them when shopping for sports massage equipment.
Cost-effectiveness – It can be quite unnerving to purchase different types of equipment while setting up shop, but the good thing is that many of the sports massage equipment are one-time purchases. This is why you need to prioritize quality while trying to be cost-effective so that your clients can have the best, ensuring that they come back. For example, a high-quality massage bed that has your clients relaxed during the massage session is more likely to make them come back than one that is uncomfortable for them. Plus, researching and comparing prices of different items will ensure you get the best quality one for your money.
Durability – Durability is another critical factor that you need to consider when buying sports massage equipment because you don't want to be replacing gear every other month. Your equipment should be sturdy and it should be easily transportable especially if you have to meet your clients at different locations. Besides, being a massage therapist with constantly broken sports massage equipment doesn't set a good precedent for your business.
Portability – Just like cost-effectiveness, you should also consider the portability of the item before you purchase it. As mentioned earlier, your sports massage equipment should be portable enough to be easily transported from location to location. Also, it is best to opt for portable massage equipment rather than heavy sports massage equipment that you would have to lug around everywhere – this will have you feeling exhausted before you start the massage.
Safety – You need to ensure that your massage business is safe for your clients – which is why you cannot concede on safety when purchasing sports massage equipment. You also need to take good care of yourself, as massage therapy is physical work and you don't want clients getting anything from you that would potentially harm their health. Also, if you want to purchase any massage product online, it is vital that you do your research to ensure you don't buy something that could harm you or your client. For example, your massage bed/table should be strong enough to bear different weights and heights, and your massage mediums must be safe to use by all standards.
Functionality – One factor you should not compromise on is functionality, as it enables you to treat different types of clients. For example, an adjustable massage table will allow you to work on clients of various sizes while ensuring you reach different areas of the body with ease. You should also look out for sports massage equipment that has multiple functionalities, as this would serve you in the long run. Additionally, reading numerous reviews and carrying out research on different equipment will save you from having to replace them constantly.
Re-usability – If you are on a budget, you should opt for reusable sports massage equipment. However, this doesn't mean you should go lower in quality as there are high-quality massage tools that are reusable.
Top Equipment for Sports Massage Therapists
Massage Bed /Table
A massage bed, or table as it is commonly called, is arguable the most important sports massage equipment, as, without a good table, clients will not enjoy their massage. A good massage table is a key component to the overall massage experience because it provides complete comfort to your client before and during the massage session. Massage tables come in different types, shapes, and sizes – some with collapsible legs while others with stationary, solid legs. The price of this equipment varies with the material quality, mobility, and model type.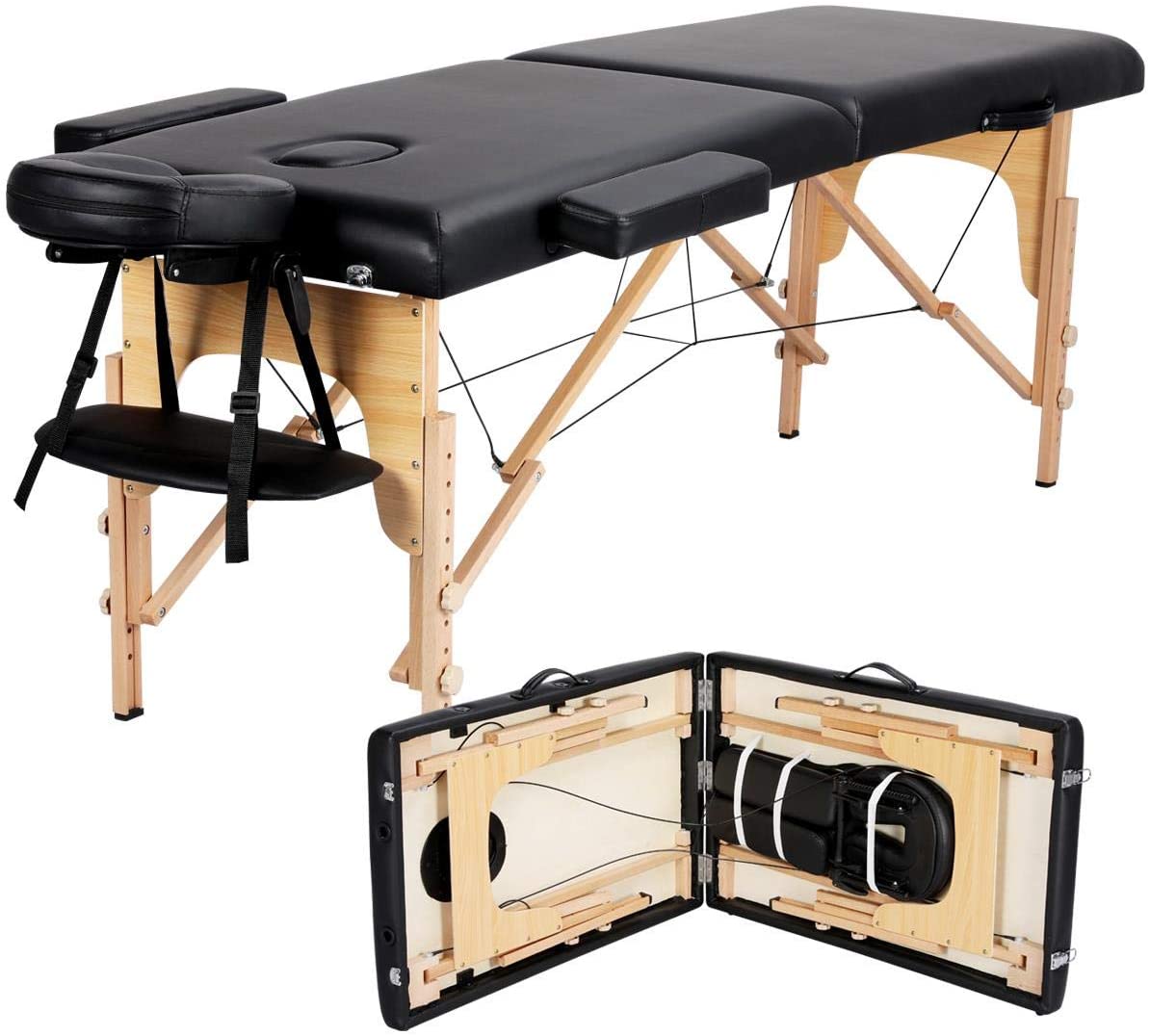 Image from Amazon
Your needs play a major role in the type of massage table you purchase, so ensure you carry out extensive research before purchasing anything. For example, if you're going to work as a mobile sports massage therapist, you will need to opt for a massage table that is lightweight and transportable, but it should be sturdy enough to support the weight of different clients. Besides, you should go for a massage table that is durable and made from easy to clean material, ensuring optimum hygiene protocols at all times.
Massage Mediums
Massage mediums are very important as they help reduce injuries and keep your movements fluid throughout the massage session. Using mediums enables sports massage therapists to manipulate the soft tissues, relieve muscle soreness, and increase blood circulation to enhance muscle recovery. There are different types of massage mediums from oils to creams, balms, waxes, gels, and balms, with each of them having its merits and being suited for different situations.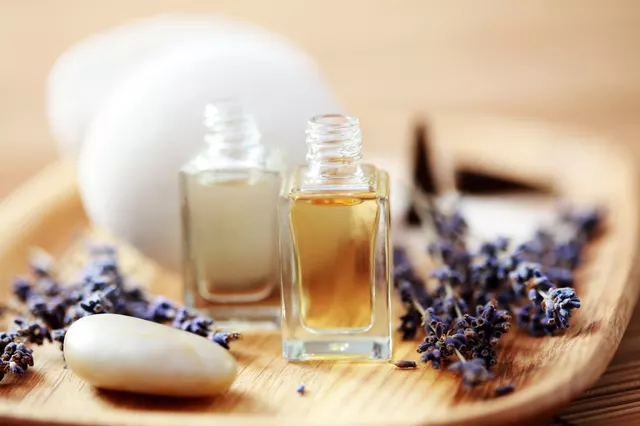 Image from leaf.tv
Massage oils are effective at generating heat and they promote fluid sports massage techniques while hydrating the skin. You can use massage creams for deep tissue massage while wax enables you to have better control during the massage. Gels and lotions are good mediums for clients that require quick massage treatments as they have a lighter consistency than oil or cream. However, when choosing the right massage mediums, you should ensure that you opt for the ones that can be used on sensitive skin. Plus, you should also find out some of your client's medical history to avoid using any product that can cause an allergic reaction.
Massage Sticks
Sometimes, massage therapists need more than their techniques to reach deeper tissues, and this is where massage props come in. With these props, the chances of your hands and fingers getting tired after deep tissue massages are reduced. Additionally, these tools help release muscle soreness, promote blood circulation, and enhance muscle recovery.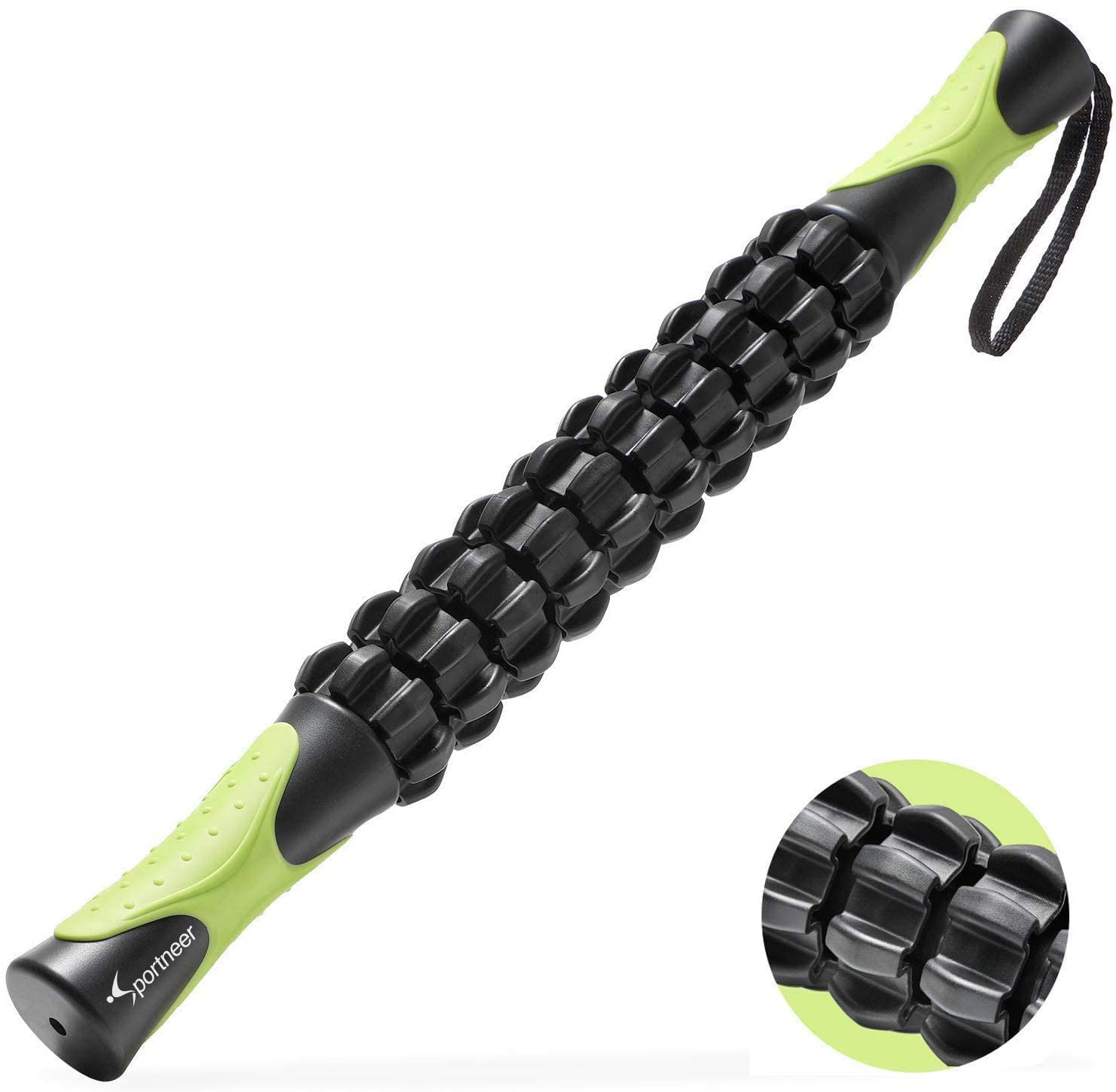 Image from Amazon
Massage sticks are one of these tools, and it is basically a stick with engraved ridges at the side that help with trigger pointing. The simple design of this tool makes it a great addition as it is very light and portable. Sports massage therapists can use this tool to manipulate the soft tissues, improve tissue elasticity, and break down scar tissue caused by injury, which will invariably help in the client's recovery. This tool can be used on different parts of the body like the neck, calves, quadriceps, hamstrings, glutes, biceps, back, and triceps.
Massage sticks help with flexibility as they stretch out the tendons, ligaments, and muscle fibers. Massage therapists also use them to create suction in the veins, promoting the circulation of blood, oxygen, and nutrients. Besides, because it does a great job at reducing injuries, it also helps clients sleep better.
Massage Ball Rollers
This equipment is usually made from rubber or plastic, and sport massage therapists use it to release the aches and muscle soreness from their clients during sessions. With a ball attached to the handle, you can use this tool to massage various trigger points and muscle groups on your clients' bodies, giving them instant relief while enhancing blood circulation. They usually come in different shapes and sizes but they are portable enough to be transported from place to place.
Massage therapists use this equipment to target areas of the body that are usually hard to get to like the glutes, shoulder muscles, bottom of the feet, hamstrings, and chest. Athletes and other active people use this tool to self-massage, but it is still best used in the hands of a professional. However, before purchasing this sports massage equipment, ensure that you really need it because even though it makes a nice addition to your tools it is not essential. Also, when choosing one to buy, look at reviews to avoid purchasing a piece of equipment that would do your clients more harm than good.
Bolsters/Pillows
Bolsters and pillows have different applications, and sports massage therapists use them to help with body positioning, stability, and alignment. This equipment provides support for clients and it enables you to access more muscle groups on the clients' bodies. With this tool, clients will be able to position their bodies right away to enable you to treat different injuries, aches, and pains.
For example, when a client uses a bolster or pillow underneath their feet while lying on their front, it gives you access to more areas on the shins and calves. Same way, bolsters placed behind the knee, while the client is lying back can give you more access to areas around the thighs. There are different types and sizes of bolsters available to help various types of people — which is why it is best to purchase different sizes to accommodate your varying clients.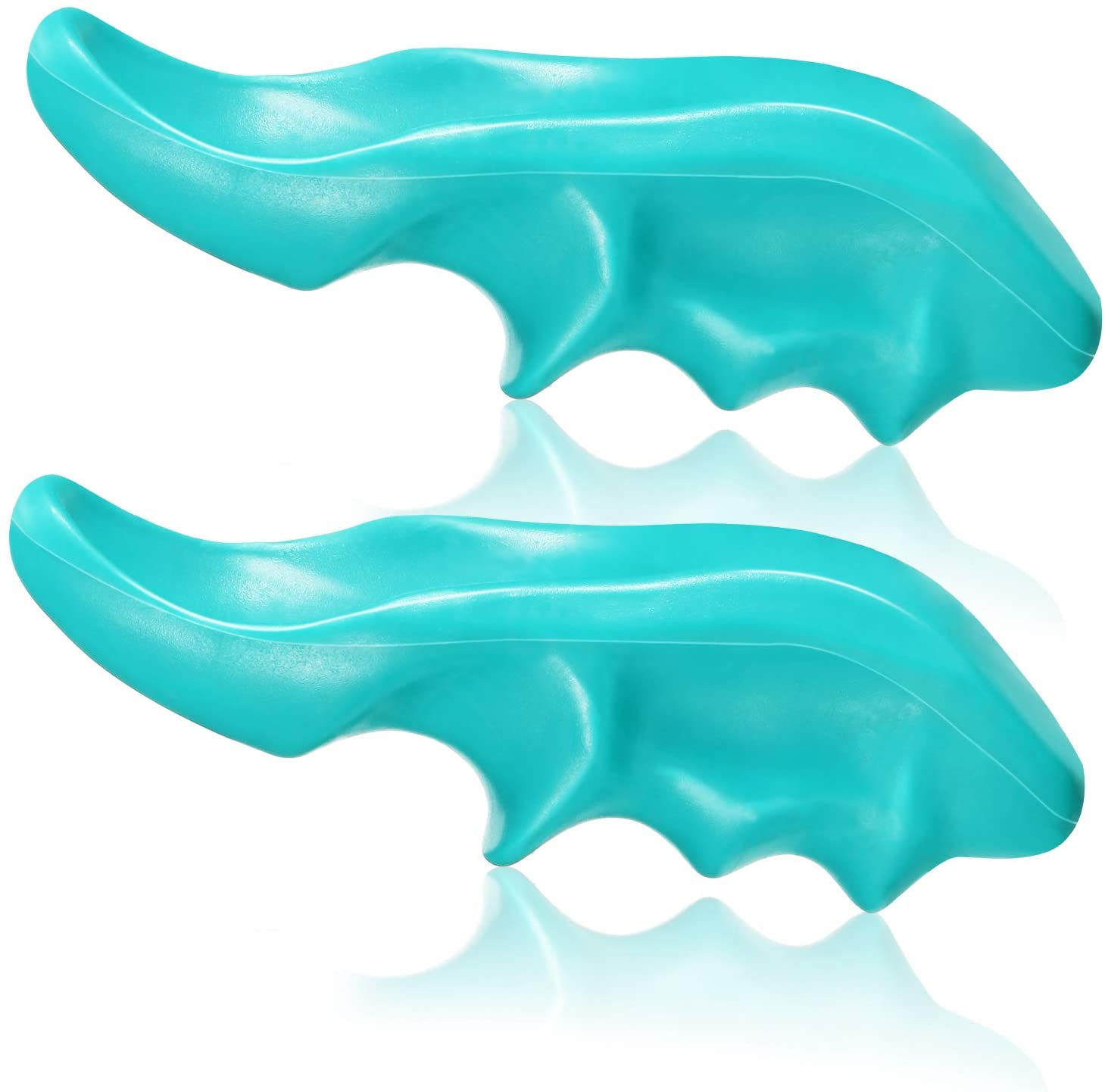 Image from Amazon
Thumb massage tools are typically small in size and sports massage therapists use them to target deep-rooted knots and ease trigger points on the client's body. They are usually made from plastic or rubber and their portable nature makes it easy for you to carry them around. This tool helps improve blood circulation and promote recovery after a workout or sporting activity. Additionally, it is important you buy a thumb massage tool that is made from durable and high-quality material to avoid constantly replacing it.
Bed Linens
Most massage therapists often skip purchasing bed linens and this should not be so. A number of massage beds are made with the uncomfortable material vinyl finish which can make clients uncomfortable after a while. Bed linens ensure that the client is comfortable while creating a hygienic workspace where there's a layer between the massage table and the client. You should ensure that you change the linens after every session. Also, having soft and fresh-smelling linens is sure to improve the complete massage experience for your clients.
Towels
Towels are very important tools to have, as they add an extra layer of comfort to your clients' experience while ensuring privacy is maintained at all times. This multipurpose equipment can be used in a number of ways – you can use it to clean your massage table after a session or use it to wipe away excess cream, gel, or oil from the clients' bodies before they wear their clothes. You should opt for towels in different sizes as the larger ones work better for providing clients with comfort and privacy, while the smaller ones can be used for other functions.
Disposable Sofa roll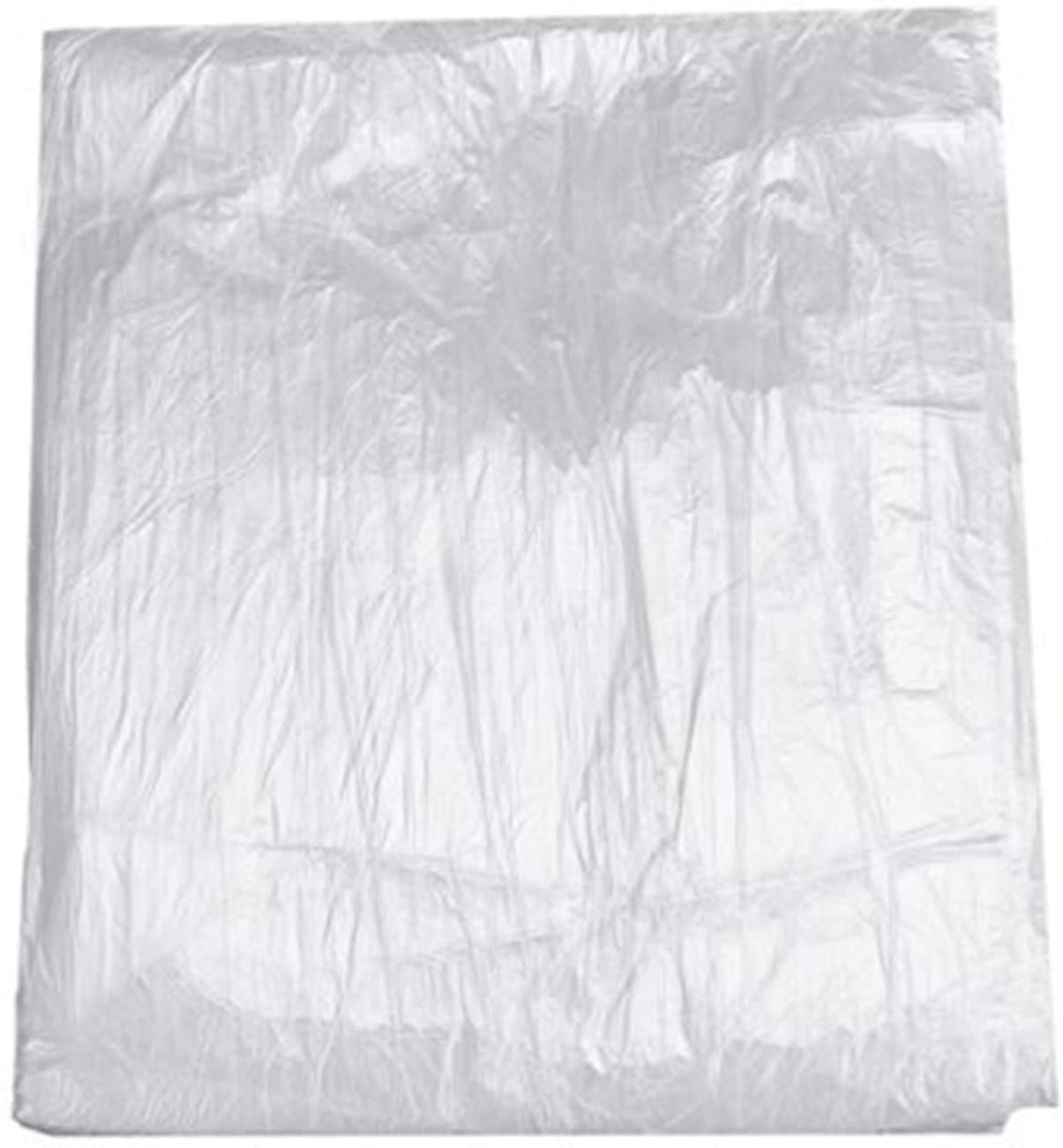 Image from Amazon
Disposable sofa rolls come in quite handy as they help you keep your massage table sterile at all times. You can use sofa rolls in place of linens to act as a barrier between the massage table and the client. This sports massage equipment can be used to clean the surfaces after every session before they are disposed of. Besides, most massage therapists prefer disposable sofa rolls to linens because of their non-reusable nature but it is not as comfortable as bed linens.
Sofa Cover
If you are opting to purchase bed linen, you should also buy a sofa cover. This massage tool goes over the massage table before you place the linen on top, and it helps you protect your furniture from stains, spills, and damage. With sofa covers, clients will be extra comfortable as they are mostly thick and durable. Because sofas are placed before the linens, you don't need to watch them after every session as it does not come in direct contact with the client. However, it is advisable that you wash your covers every few days to maintain good hygiene practices at all times.
Disinfectant
Your massage space must be sterile and safe, which is why you need to have disinfectants as part of your sports massage equipment. While wiping down your massage table after each session is good practice, it is not enough. You need to constantly disinfect your massage table after every session to remove any bacteria, making sure it is safe for your next client to use. Also, proper safety and hygiene is the best way for you to keep clients coming back because no one will come back to a massage therapist that is dirty.
Massage therapists use head massage tools to help their clients relax. This sports massage equipment, unlike others, does not help in trigger pointing or knot relief, but you can use it to add to the comfort of your client. Besides, it is very portable and easy to carry around.
Maintenance Cart
A maintenance cart is a good addition if your business is in a single location as it helps you organize all your equipment well. Most clients love organization and will visit again if all your mediums and tools are stacked and arranged appropriately. Plus, maintenance carts enable you to access anything you need while massaging a client.
Sports Massage Equipment Case
Just like a maintenance cart is important for massage therapists with a single location, an equipment case is essential for mobile sports massage therapists. These cases hold all your equipment and ensure you don't forget anything. There are different types of cases you can buy and they all depend on your taste. You can get a massage bed case, where you can put your entire massage table along with other massage accessories like mediums and towels or you can purchase a tool bag that will contain all your massage props, mediums, linens, and towels.