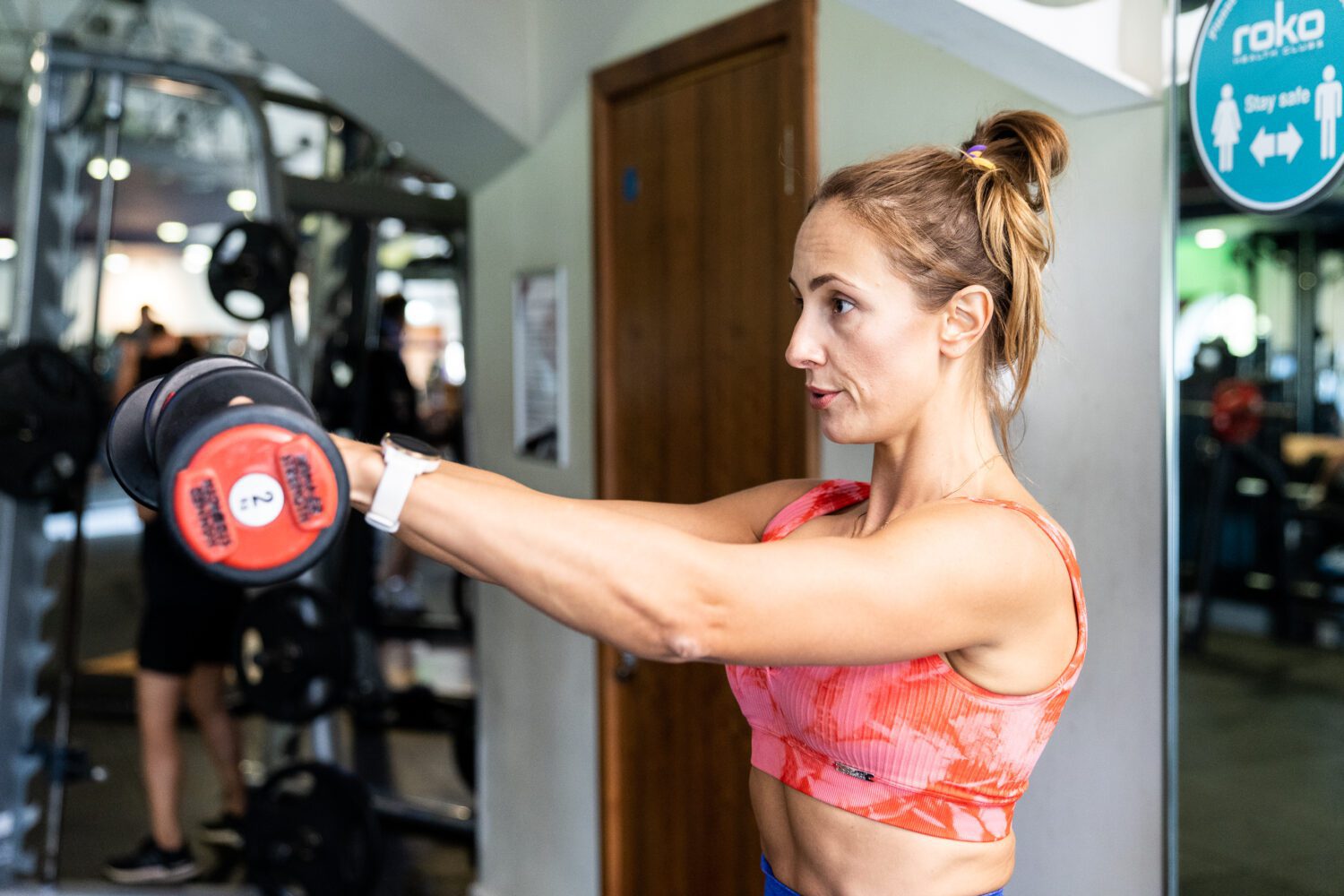 4. Strength Training Can Improve Sporting Performance
As we mentioned earlier, strength training has been shown to increase strength, lower injury risk, increase bone density, and improve sleep quality. Is it at all surprising then that strength training can improve your performance in the sport of your choice?
In 2000 a study by Kraemer et al found that strength training could improve performance in female tennis players. It leads to increased serve velocity, due to increased power in the upper and lower body [4]. But really this is just one example of hundreds of studies where strength training has been effective at improving performance.
Strength training will improve coordination, increase strength, speed, and power. It is perfect as a tool for improving athleticism and giving you an edge over the competition.
5. Strength Training Can Improve Posture
For a very long time, a lot of people tried to convince the world that lifting weights was bad for your posture, and in some ways they were right. If you trained chest 6 days a week for an hour each day you would probably not end up with terrific posture. But following a well-planned strength training program can lead to great postural improvements.
Exercises such as the deadlift can help you to strengthen the muscles in your upper back, whilst also teaching you how to lift with perfect posture. Rowing movements can also help strengthen your upper back, whilst Romanian deadlifts, and Good Mornings can strengthen your lower back. There are exercises that can help improve your hip mobility which can help with running posture.
In short, strength training can make a big difference to how you sit, walk, lift, and run in everyday life. Combine this with all the other benefits we've looked at (and the hundreds more that we didn't have time for) and you'll see why it's definitely worth 3 hours of your week.
Want To Learn More?
Our Advanced Resistance Training course offers an in-depth understanding of advanced resistance training including techniques and programs designed to increase muscle strength, power, endurance and hypertrophy (size) and power endurance.
References
[1] Moraes, M., Bacurau, R., Simoes, H., Campbell, C., Pudo, M., Wasinski, F., Pesquero, J., Wurtele, M., Araujo, R. 2012. Effect of 12 weeks of resistance exercise on post-exercise hypotension in stage 1 hypertensive individuals. Journal of Human Hypertension26(9): 533-9
[2] Westcott, W. 2012. Resistance training is medicine: Effects of strength training on health. Current Sports Medicine Reports11(4): 209-16
[3] Kwon, HR., Han, KA., Ku, YH., Ahn, HJ., Koo, BK., Kim, HC., Min, KW. 2010. The effects of resistance training on muscle and body fat mass and muscle strength in Type 2 Diabetic women. Korean Diabetes Journal34(2): 101-110
[4] Kraemer, W., Ratamess, N., Fry, A., Triplett-McBride, T., Koziris, P., Bauer, J., Lynch, J., Fleck, S. 2000. Influence of resistance training volume and periodization on physiological performance adaptations in collegiate women tennis players. The American Journal of Sports Medicine28(5): 626-633