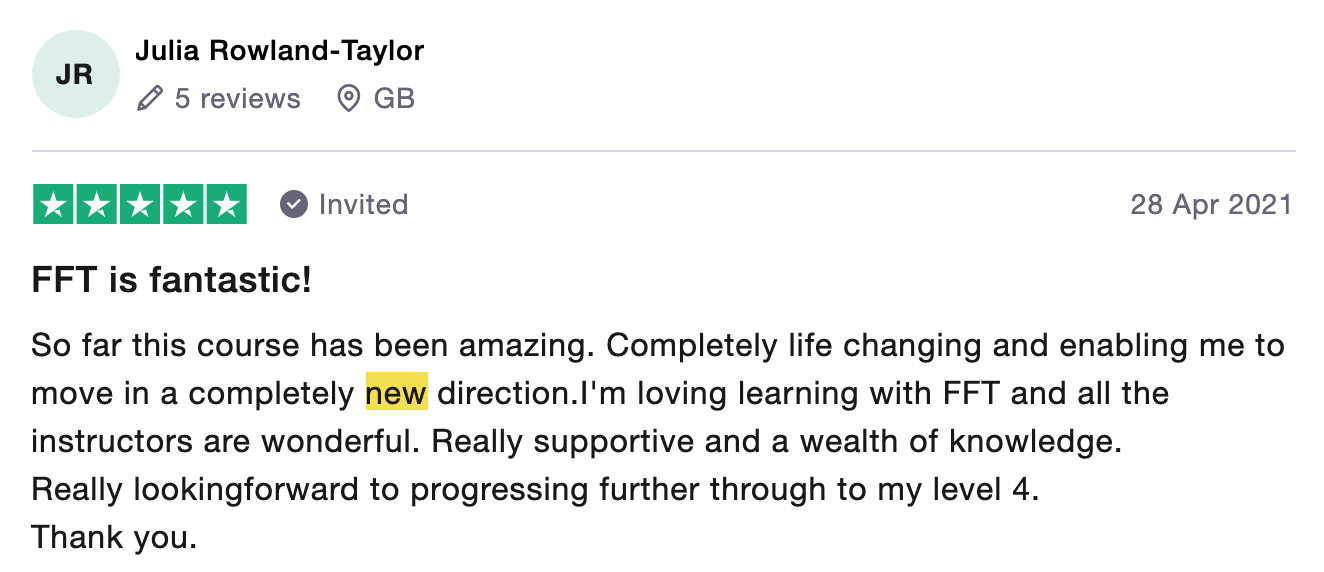 This has been a common source of feedback amongst our students, with Liz M (a Nutrition student) in 2020 relaying that this course has allowed her to follow a new career path, supported by her beliefs in a holistic approach to wellness beyond pharmaceutical.
At Future Fit, we believe that exams, training and assessments should reflect the industry that the learning will be entering, providing them with career-ready training to allow them to hit the ground running once they qualify.
Our training is to a highly professional standard, giving you the confidence to set up on your own, as Matt (a Nutrition graduate) has done.
2. Future Fit has high-quality learning and workshops both online and face-to-face
It's great that our courses have prepared our students to confidently turn their passion for wellness and fitness into a career. For our learners, we take pride in our courses and know that we are providing something that isn't "off the shelf", but something that will be engaging, innovative, and future-ready.
EMartins was particularly impressed by our commitment to helping all our students succeed, particularly for online and part-time training.
Another fantastic review came from Jamie D, who praised the smooth nature of the training, from beginning with the initial consultation with our team to finishing and printing off essential certificates.
Reviewers saying they would return for further training with us is another frequently occurring statement, showing the high quality of our courses.
3. Future Fit provides great extra resources to their students to help with learning
We offer more than 40 online courses and our learning portal is very highly regarded by our students. A key aspect of our courses reflected in our reviews is that we don't cut corners when it comes to our training. We want our students to be at a level beyond industry standard when they graduate from us.
We offer our students qualifications that are recognised and accredited, as well as extra resources to allow for further study and specialization.
Another good example of providing extra resources for enhanced learning is how we adapted our training to suit learning from home while in COVID-19 lockdowns. This was commented on by Rebecca on Trustpilot, who referenced our "additional sessions" to support learning during gym closures: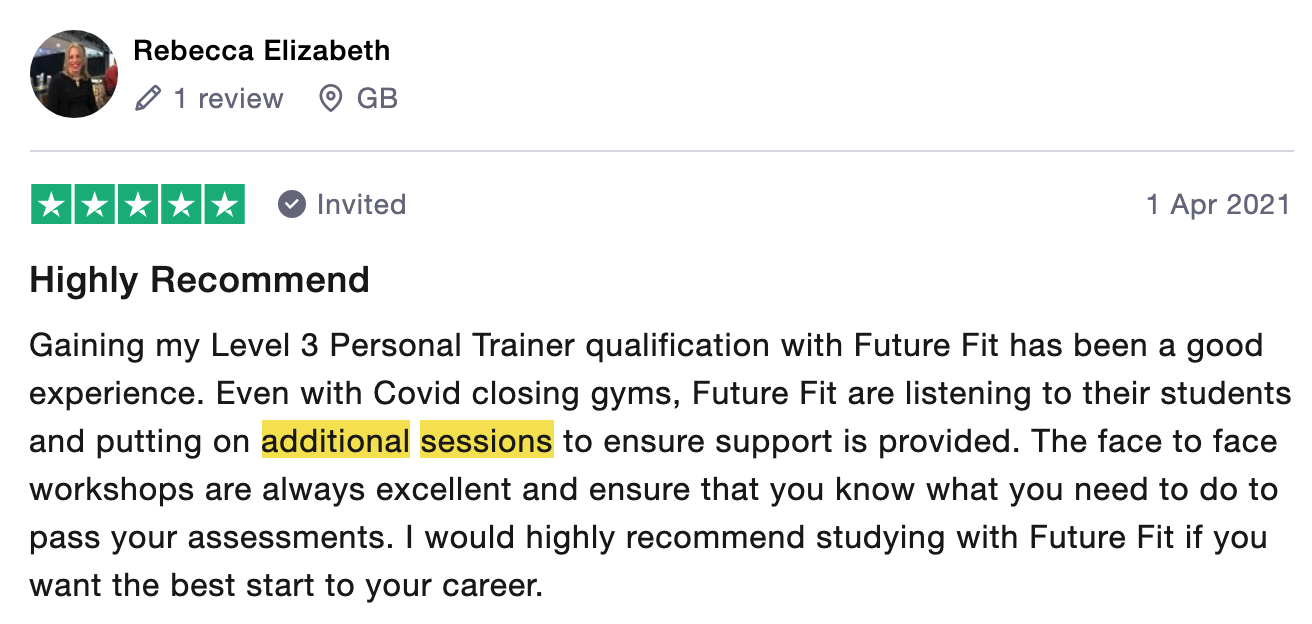 4.The support and tutor team at Future Fit are friendly and helpful
When investing in a new career or gaining further training, it is important to know you are supported not just during your course, but in the sign-up process and into the future. Our reviewers frequently highlight how great our support team are in answering any questions they have and calming any fears about exams and assessments.
Laura W, who studied nutrition with Future Ft, highlighted how our support team was able to help her with her assessment: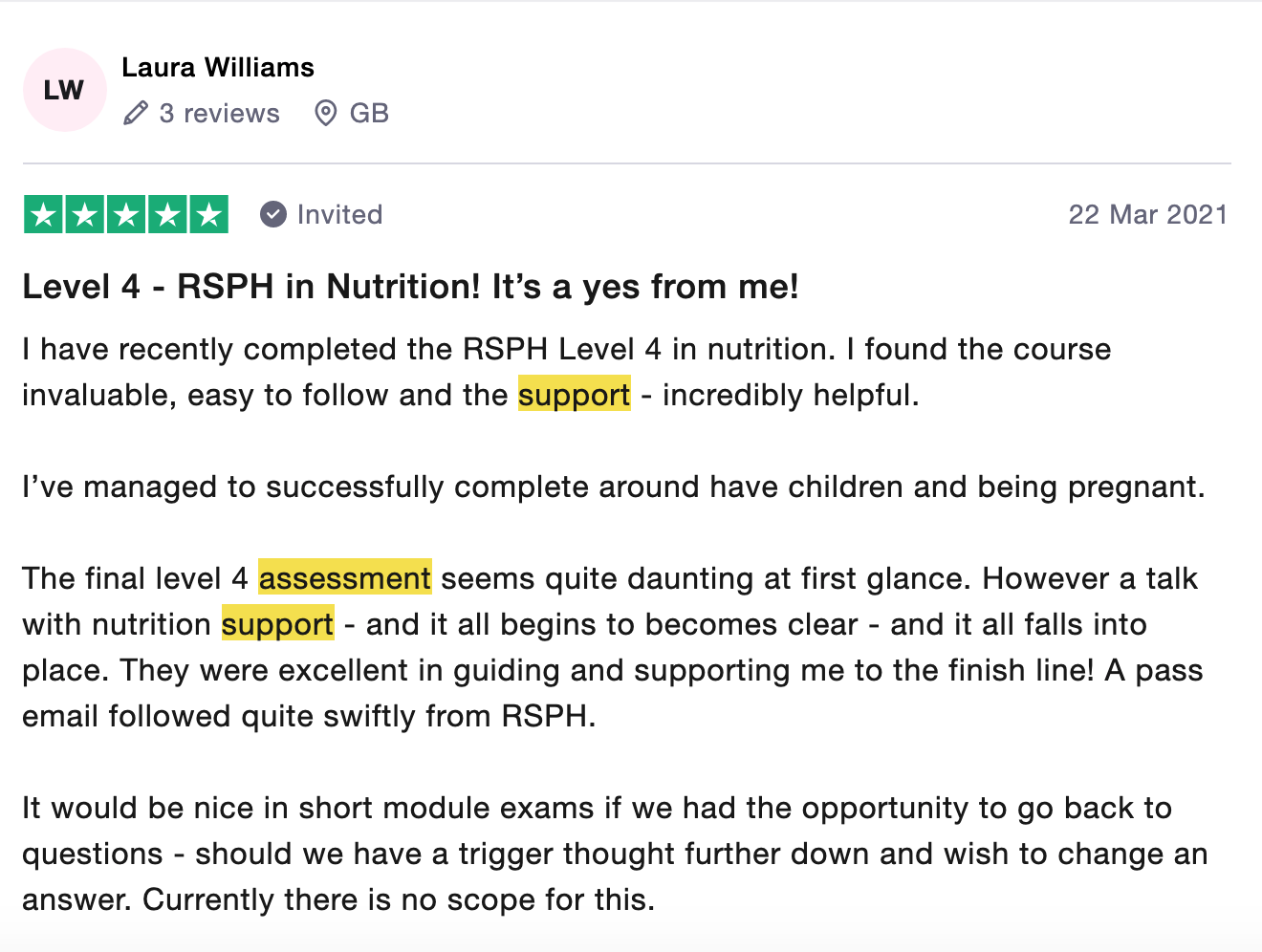 Our support staff have always been something to be proud of, with this review from Alison F in 2019 stating that she has taken in so much of the support our tutors have offered, she can still hear their training when she teaches her classes!
2 least favourite things about Future Fit Training (based on reviews from 2017-2021)
We are always looking to improve our courses and keep up with current teaching standards and trends. We will usually respond to negative reviews in 24 hours or less.
There are a few of the things that our students believed that we could improve on:
1. The online portal can be improved
We try our best to make sure our learning is accessible and user friendly to all our students. This is especially true of our online portal and our e-learning. We have had some feedback that this is not the case for all our students (as shown by Ginny).
We are aware that our student's online portal can be outdated, we are always working on ways to make improvements to all of our systems. We have invested heavily in a new online portal, which we continue to update.
2. Sometimes the information is not relevant
We are the first to acknowledge that Future Fit Training courses need a constant update, especially with the speed of new science is developing into new techniques and methods and we always try to be on top of the innovation in every subject. So, some of our students have pointed this out to us as well.
"Some outdated information which needs to be updated".
Florence B is saying that "the training included the Eatwell Plate rather than the Eatwell Guide, which made me wonder which other information wasn't up to date.

We think these are very valid points: our students should be always updated on the latest content – which is why we always work to update the content of our courses.
To Conclude – Is Future Fit Training For You?
We really appreciate all 500+ reviewers over Google and Trustpilot who have left positive feedback and constructive criticism. We believe that communication between students and providers is crucial to make sure we are providing the best service now and long into the future.
If you would like to see what training with Future Fit is like for yourself, call our team on email.
or send us an