Whether you prefer running during the day, night-time, or before the sun rises and the streets fill with people, or you are a personal trainer specializing in running, having any type of running light is important.
Running lights provide you with light to see your path ahead and they also help other runners and drivers to see you, especially at night when visibility is reduced.
Your running environment plays a huge role in the type of running light you should get, as some are more ideal for certain environments than others.
For example, clip-on running lights and body reflectors are best for street runs, while headlamps are perfect for hikes.
It is quite hard to find high-quality running lights that work exactly as advertised, especially as there are a lot of products in the market to choose from.
This article is dedicated to recommending the best running lights that work in different weather conditions so you don't have to go through the hassle.
We will also discuss the types and benefits of running lights as well as the factors you should consider when choosing one. So, let's take a look at some of the types of running lights.
Which running lights should you opt for?
Before we list the best 15 running lights, let's review quickly the different types of lights available and highlighted below are the major types you'll find.
This type of running light is a favourite amongst runners because it's easy to strap on their forehead like a bandana and it is also hands-free. Most of these headlamps come reinforced with an intense light that can illuminate long paths for the runner, some even up to 200 meters. However, with this type of running light, you may not be able to see anyone approaching you from behind and the light moves as you move.
Chest running lights are designed like vests that can be tied around the chest, and the belts are adjustable and can fit runners of any size. These running lights are designed to ensure that you are seen regardless of the activity you are engaging in, and they come with a lamp at the front and lights at the back to make you visible in the dark. This standard running light design can be pretty pricey and the light may not be as intense as other types.
Many runners opt for this running light because they are cheap, mobile, and help illuminate the path in front of them. However, most of these flashlights are not hands-free and this can be quite uncomfortable for the runner. Plus, handheld flashlights can only point in one direction at a time and the light is not intense enough for others to see.
Clip-on running lights are designed to enable users to attach them to any surface, whether clothes, armband, or bicycle. Most of them come with a silicon cover that protects them from moisture and they have multiple light intensity modes. This type of running light is comfortable and easy to use, and it can serve different purposes.
Knuckle lights are small running lights that you can strap to your knuckles, and most of them run on batteries, are lightweight, and are easy to wear. But, it can be uncomfortable to wear for long periods of time. Plus, the light intensity is small compared to other types.
Armbands enable runners to be seen in low visibility areas but they can be used by others like emergency personnel. These running lights come in different colours and you can wear multiple ones to be more visible. Some of them don't hold MP3 devices and the light discharge is quite small and not specific to one direction.
LED lights increase the runner's visibility to vehicles and pedestrians alike, improving their safety. These running lights come in different forms and they are also lightweight and comfortable to wear. However, most LED lights are designed to help others see the runner and not actually help the runner see their path ahead.
Shoe lights are beneficial to runners as it helps them see where their feet are landing to avoid accidents. These running lights are resistant to impact and are totally hands-free but they do not have visibility for eye level. This means that runners wearing these will have to supplement with other types of running lights.
Criteria you should consider when choosing running lights
There are many factors you have to consider before choosing the type of running lights you'll use for your daily run, and we have highlighted a few below.
Purpose
One major factor you have to consider when looking for running lights is your purpose for getting them. Do you need it to make you more visible to others or do you need it to light your path? Answering this question will help streamline your choices. If you want others to see you, going for clip-on lights, reflective vests, armbands, and LED lights is your best bet, but if you want control over the direction of the light, headlamps, knuckle light, and handheld flashlights are good choices.
Light Placement
You also have to consider where you'll wear the product because wearing the running lights on different parts of the body have advantages and disadvantages. Plus there's a running light for every part of your body. For example, headlamps make you visible to others but they can cause headaches with prolonged wear. On the other hand, clip-on lights and shoe lights are lightweight but have the tendency of flying off during your run.
Weather Conditions
The weather and environmental conditions play a huge role in the type of running lights you'll buy. Most of them are advertised as weather and water-resistant but you need to double-check before buying. Besides, extreme weather conditions like fog need expert running lights with high light intensity, durability, and battery power.
Running Distance
You need to choose a running light that can keep up with you especially if you run for hours. There are different running lights that can last for hours after a single charge and there are those that come with replaceable batteries you can change mid-run. If your runs are typically under an hour, you can opt for the rechargeable running lights to avoid buying new batteries regularly.
Light Intensity/Output
It is essential that you can see and be seen by others during your night run, which is why you need bright running light. Light output is typically measured in lumens, and this shows how bright your light will be and the distance it can cover. The standard light output range found in most running lights is 200 to about 500 lumens but some of them come reinforced with LED lights. Additionally, you should opt for running lights that have different brightness modes from high to low and strobe, with the strobe mode made for emergencies.
Battery Life
Battery life is another important feature you need to consider, and you need to ensure the running lights come with lithium batteries as they are more durable than other batteries. Most running lights are rechargeable and you can charge the battery using a USB cable. But, running lights with rechargeable batteries are known to have shorter run times than battery-powered running lights so if you are running longer distances, it's best to choose the latter.
Comfort
Any running light you choose must be comfortable, so you can try on the different types of running lights to find the one you are most comfortable with. Some are more lightweight than others but they each have their benefits and minuses. Straps and belts play an important role in making running lights more effective, so you can opt for running lights with adjustable straps. Plus, you can choose armband lights if you are not comfortable with straps.
Best Running Lights
These clip-on running lights are lightweight, reliable, and can be attached to anything from your armband to pocket, waistband, shoes, ankles, and running top.
The pack comes with two separate lights attached with in-built clips or a long, elastic strap, and you can choose from the three light settings – steady, slow flash, and fast flash to alert cars and fellow runners of your presence.
These clip-on running lights come with batteries that can last up to 100 hours, and you have extra batteries available once the batteries run out.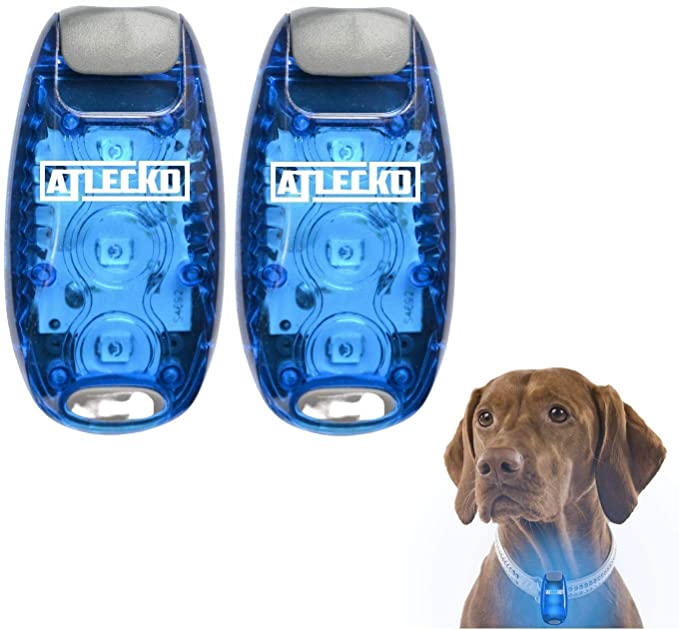 With an IPX4 rating, these running lights were built to withstand different weather conditions like snow, rain, and ice.
Besides, you can choose from the myriad of colors available like blue, pink, green, or orange clip-on LED lights.
The Knuckle Lights Original is a runner favorite as it helps keep runners safe and visible during their run.
They come with adjustable silicon straps that help prevent them from bouncing all over the place while you run.
This running light set comes with two running lights that can you strap to both your hands and they provide extra-wide flood beams that make it easy for you to see your running path.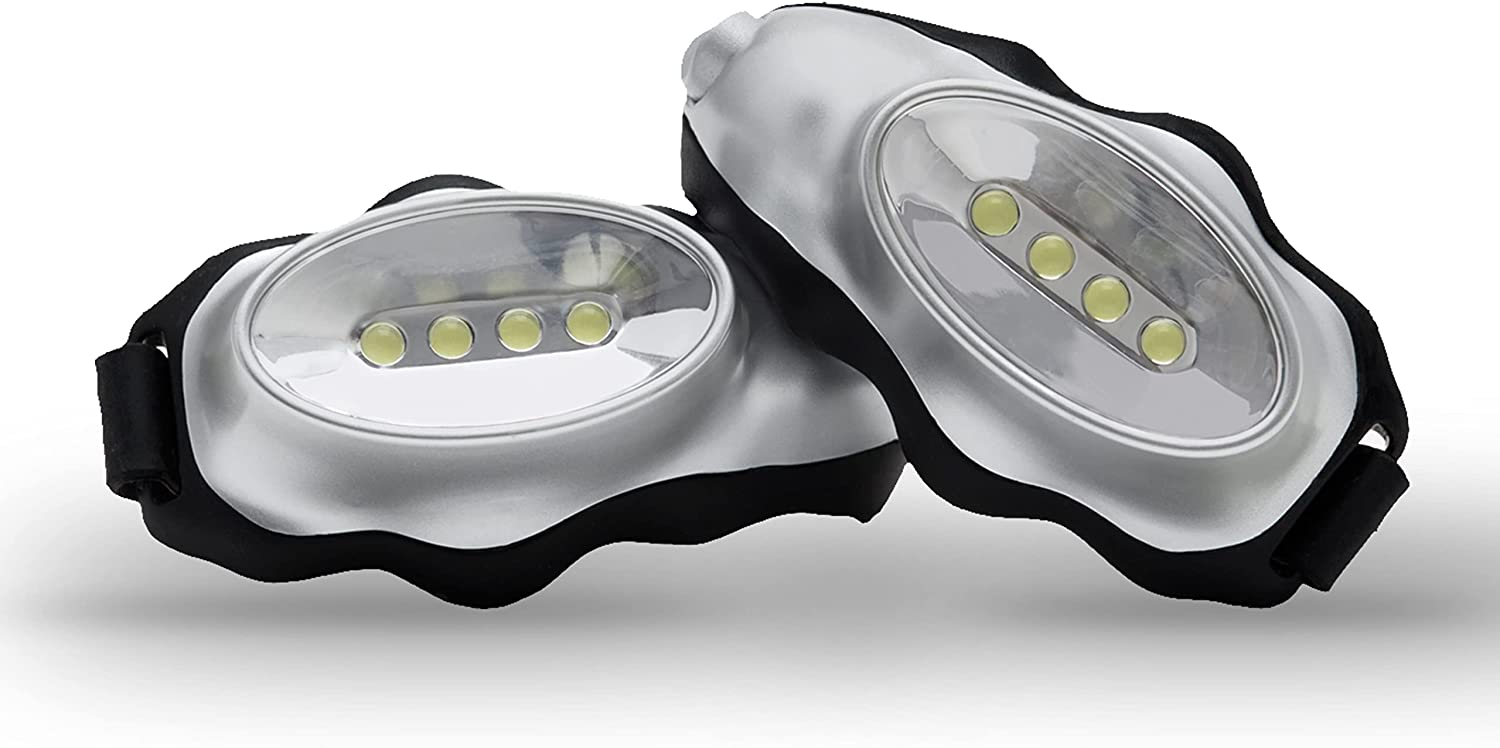 Image from Amazon
These lightweight knuckle lights are barely 3 ounces per unit and their ergonomically-shaped front makes them comfortable to wear during your runs.
Also, these waterproof running lights come in a variety of colours, and they require two AAA batteries to work.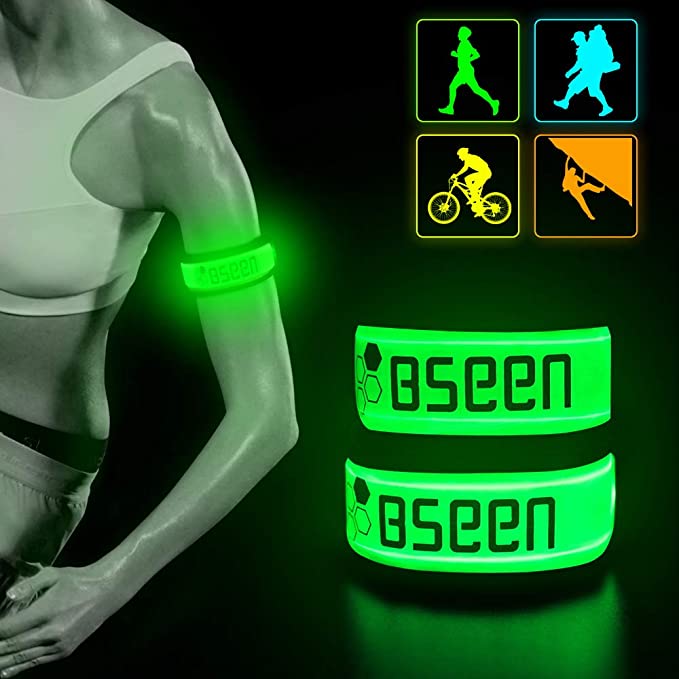 Image from Amazon
This armband automatically contorts to the width of your arm, meaning that they can fit any arm size and they remain secure during your runs.
You can find this armband in a range of colours, and it has 360 visualizations, enabling people to see you at night and in low-lighted places. These running lights can fit anyone of any age and they can provide up to 70 hours of illuminated run time.
Plus, you can also place this armband on your ankles and wrists, and it comes with two illumination modes – blinking and a steady glow.
The Nathan Zephyr handheld flashlight comes equipped with 200-lumen power and an integrated safety whistle/siren to provide you with the security you need during your runs. This handheld light helps you illuminate your running path ahead and has 2 LEDs – at the front and back, allowing visibility on different sides. You can power this flashlight with 2AA batteries and it lasts about 5 hours.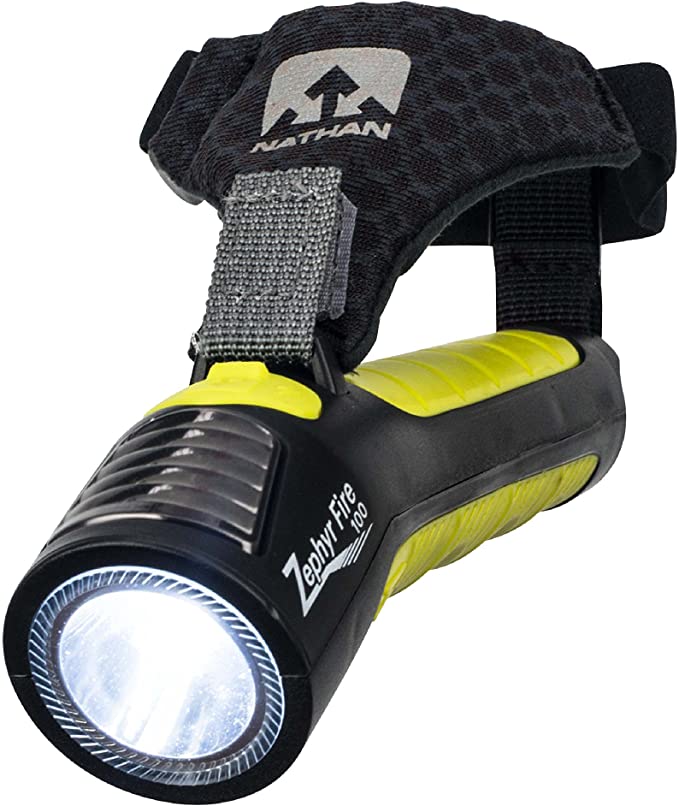 Image from Amazon
This running light has three lighting settings; high, low, and strobe, and it contains a wrist strap that allows runners to attach it to them so they don't have to hold the touch constantly. Most runners opt for this light because it is weather resistant and comfortable to carry during their runs.
This IP65 waterproof chest running light comes with a 3W XPG power lamp that helps you see your path clearly.
It is lightweight – only weighing about 160 grams, so you can wear it continuously on your run without getting tired.
You can adjust this device, as it comes with an elasticated harness and belt, and the back strap has multiple lights and a battery indicator that shows you how much battery you have left.
Plus, you can charge this device using any USB port and it lasts for about 5 hours after charging.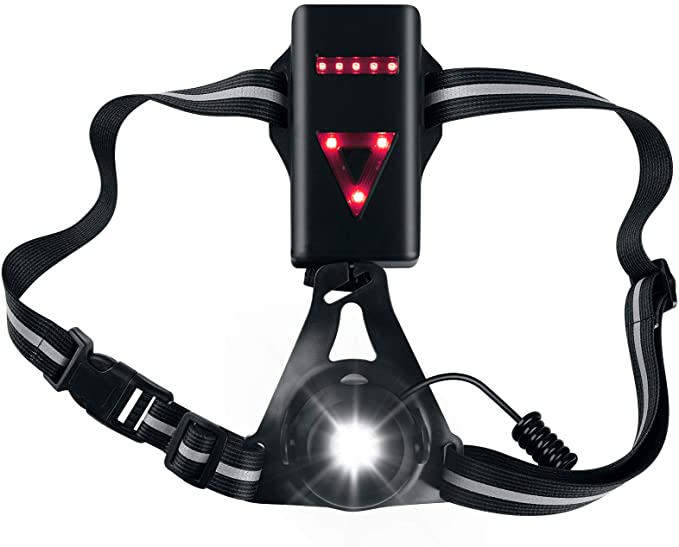 Image from Amazon
This running light also has a red warning light on the back to make you visible to anyone behind you, and you can adjust the beam at the centre to up to 20 degrees.
The comfortable and lightweight nature of this running light makes it a fan favourite.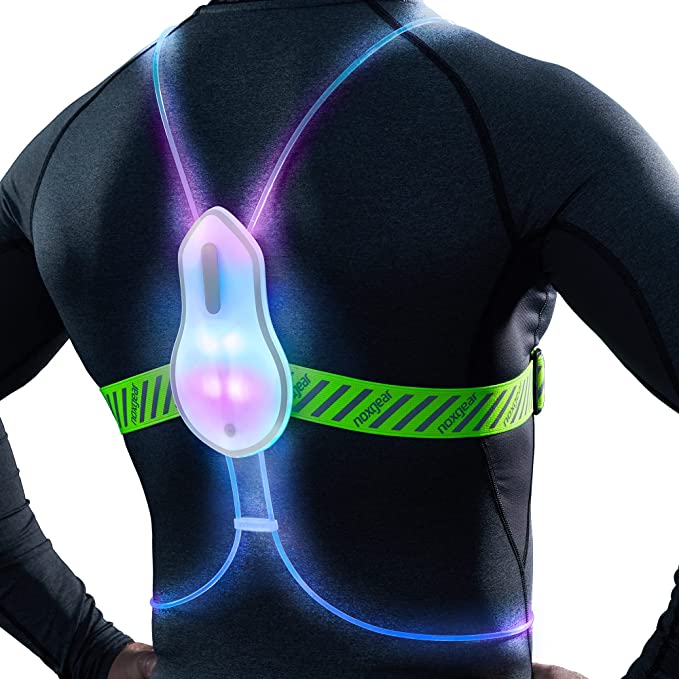 Image from Amazon
This advanced chest running light vest allows you to be seen by everyone from all angles and you can use the in-build LEDs to choose from the myriad of light colours available. It is very lightweight and comfortable, weighing just about 6.5 ounces, and it comes with different lighting modes, including flashing and multicolour. Additionally, this Noxgear Trace360 illuminated vest uses reflective bands and a unique X shape of LED light to ensure you are safe and visible during your runs.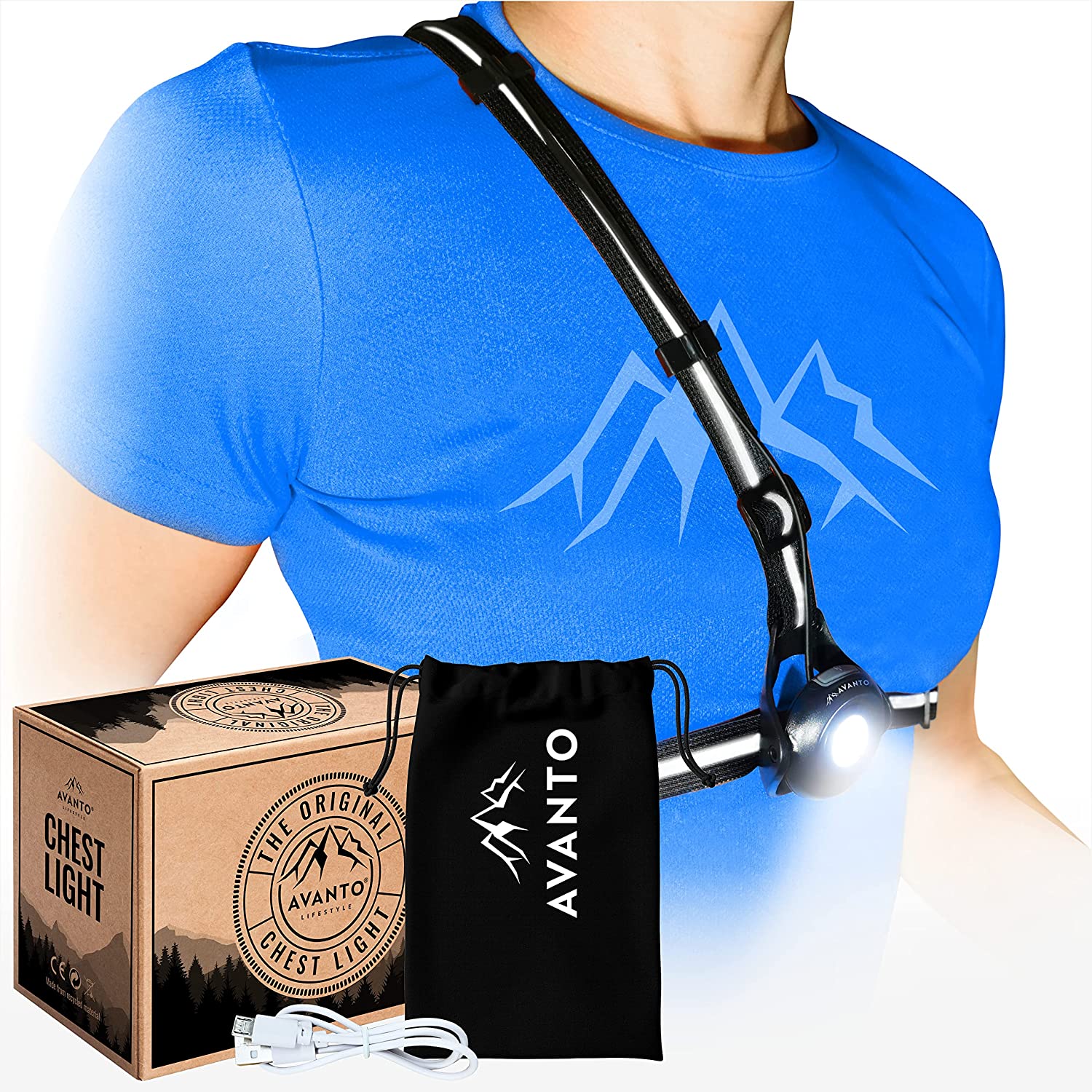 Image from Amazon
This chest running light is very small and weighs less than 4 ounces. It comes with a front light that makes it easy to see the distance in low visibility areas, and it has a red light at the rear end, ensuring you are visible to others as well. This waterproof running light is hands-free and you can easily adjust it to make your run comfortable. You can also charge its lithium-polymer battery using a USB cable, which will provide up to 5 hours of light after charging. Besides, this chest running light allows you to switch between the two light intensity modes – mild and super bright, and it does not bounce when you run.
This is a high-quality headlamp that comes in lightweight packaging and it uses a suspension system to distribute the lamp weight evenly, making it easy for runners to use it while exercising. It weighs about 2.8 ounces and has a flexible plastic frame that makes it fit snugly around your head. This headlamp rotates 180 degrees, enabling you to have more coverage, and it is packed with tiny LEDs that shine brightly.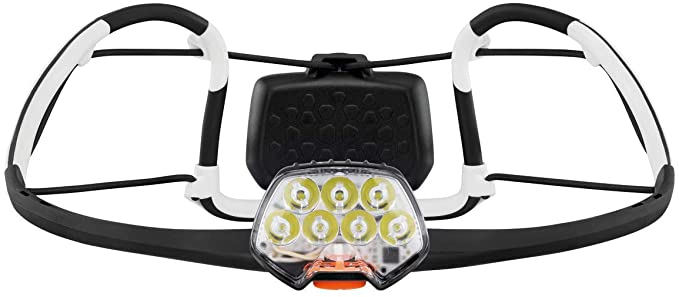 Image from Amazon
You can access all the functions of this running lamp from a single button. This headlamp also gives users the option of recharging the battery or using three AAA batteries. Plus, it is waterproof, meaning you can use it during snow or rain.

Image from Amazon
Most runners don't like to wear anything extra while they run, which is why they are always on the search for the most comfortable running gear. The Kong Quokka LED headlamp is very lightweight that you might forget you are even wearing it. It has different lighting options –high, low, floodlight, medium, blinking red lights, and others, and its design makes it fit snugly on your head with little to no bounce while you run. Besides, it is water-resistant and you can recharge it once it gets low.
10. Ultraspire Lumen Clip 180 Light
This clip-on light has a high 180-lumen output, which illuminates your running path and makes you visible to others. You can clip it onto any part of your body, like your waistband or hat, as it is very small, weighing about 1.8 ounces. There are four lighting modes on this running light and you can adjust them based on your preferences.

Image from Amazon
It comes with a USB cable you can use to charge it, and it holds its charge for up to 8 hours depending on the lighting mode you use. You can use this clip-on light during rainy seasons as it has an IPX4 waterproof rating.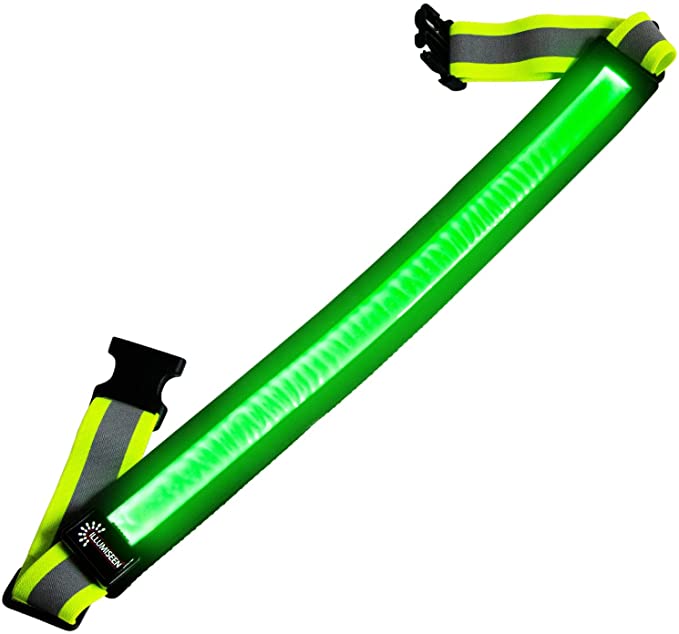 Image from Amazon
This reflective running LED belt combines LED lighting with reflective lights and provides 360-degree lighting, enabling you to remain visible at all angles. You can find this running light in different colours and it comes with an adjustable belt strap you can use to secure it. This light allows you to set it to either Glow or Flash, and you can recharge it using a micro USB that is included. Additionally, this LED belt can last up to 20 hours in Flash mode after a single full charge.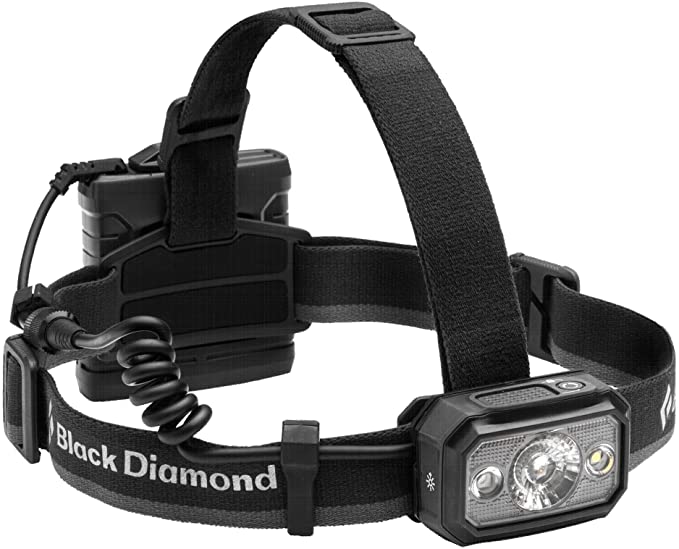 Image from Amazon
This headlamp is bulkier than the rest we have reviewed but it offers a high lumen output and a long battery life, which is a must-have if you run for hours. You can use this running light for up to 175 hours on the low lighting mode and 8 hours on high lighting, without needing to charge the battery. It comes with a 1-year protection policy, which allows you to use it for rugged hikes. Also, it comes with an AA battery pack and can illuminate up to 140 yards ahead of you.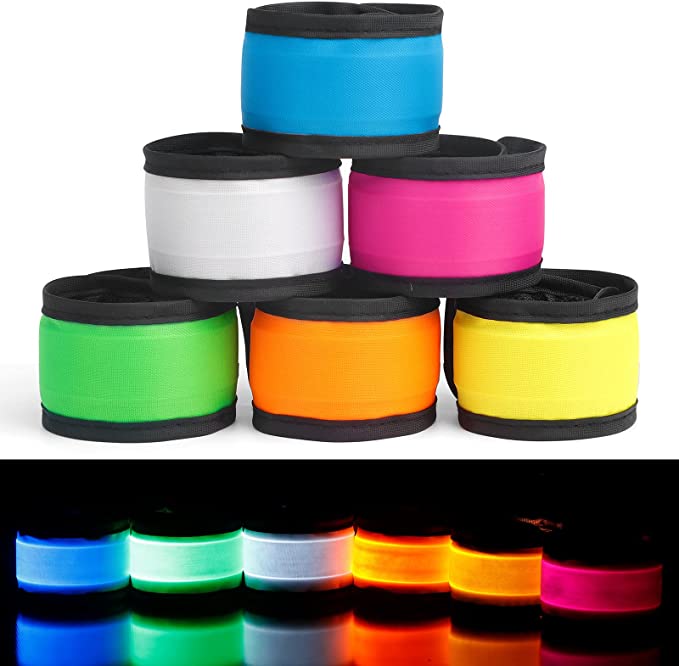 Image from Amazon
These slap lighting bracelets don't have any straps, allowing them to fit snugly to your arms width. You can also wear them on other parts of your body. They have three lighting modes – full illumination, fast flash, and slow flash, and although they do not illuminate your path, they provide 360-degree visibility to people around you. The bracelet comes in a pack of six in a set, and they are powered by replaceable batteries. Besides, even though they are lightweight, they might not be the best option to use under unfavourable weather conditions.
These shoe running lights allow you to see the running path in front of you by just clipping them to your shoes as they light up to 33 feet from you. They are lightweight, an easy fit, and can work for you even in the worst weather conditions. With the smart motion sensor switch on this running light, you can activate the sensor mode that enables the lights to be switched off by hand motions.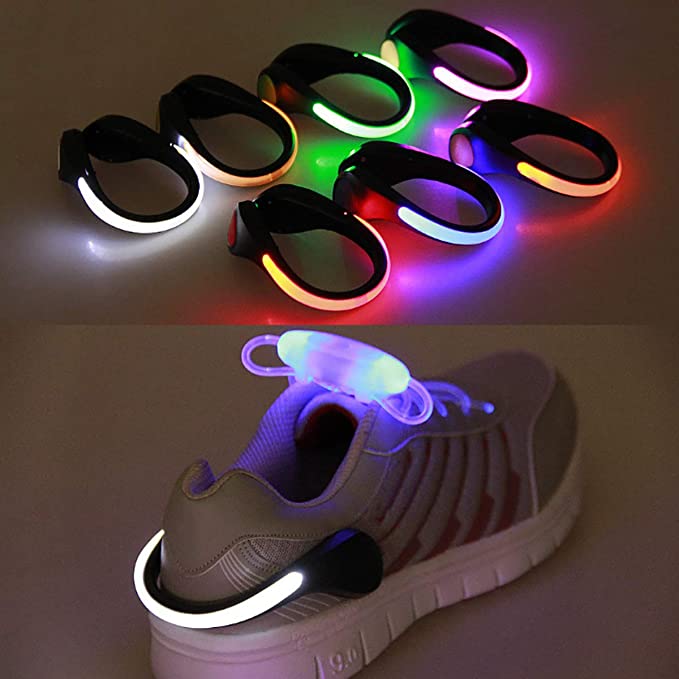 Image from Amazon
The Hiverst LED shoe running lights provide 360 degrees visibility and there are multiple lighting modes available for you to try out, including the SOS option. The batteries that power this device are USB rechargeable and can provide up to 10 hours of lighting after a full charge.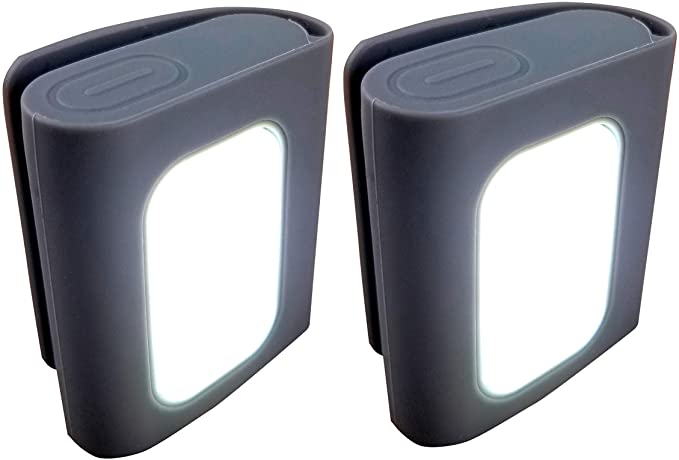 Image from Amazon
This clip-on running light delivers 200 lumens of light power to keep you visible during your runs. It is made with heat-resistant silicone, and you can attach it anywhere on your body during your run. Plus, you can charge this LED clip-on light with a USB and it features three lighting modes for you to choose from.