We worked with Ross our specialist PT tutor, to gain his valuable insights on the new fitness mirrors which have entered the market. Discover a Personal Trainer's professional view on this.
Did you know that the classic quote from Snow White in "Mirror, Mirror on the wall." isn't correct. That's a collective false memory which is technically known as the Mandela Effect. It's actually "Magic Mirror on the wall.", this is essential knowledge for your next pub quiz. Another interesting little bit of information worth pondering is the arrival of Smart Fitness Mirrors. Available here.
What is a fitness mirror?
These full length standing mirrors (so about 6ft), are high-tech devices that contain a computer, connection to the internet, and also work as a video screen. A revolutionary piece of kit for not only avid fitness fans that train at home but anyone that can't make it to the gym. Given the rise of home training since 2020 these fit well within most garage/home gyms.
From reading into the specs and offering of this new digital device there are plenty of benefits. One great benefit is that each person that has access/owns one of these becomes privy to the expertise of a trainer to guide them through the prearranged session (1-2-1, circuits, yoga, etc).
Additionally, there's mention of an almost endless library of sessions/training to choose from. Ideal for people that want to do something a little different each time. Or people may choose to save and repeat their favourites. Truly catering to a wide audience of different tastes, abilities and preferences.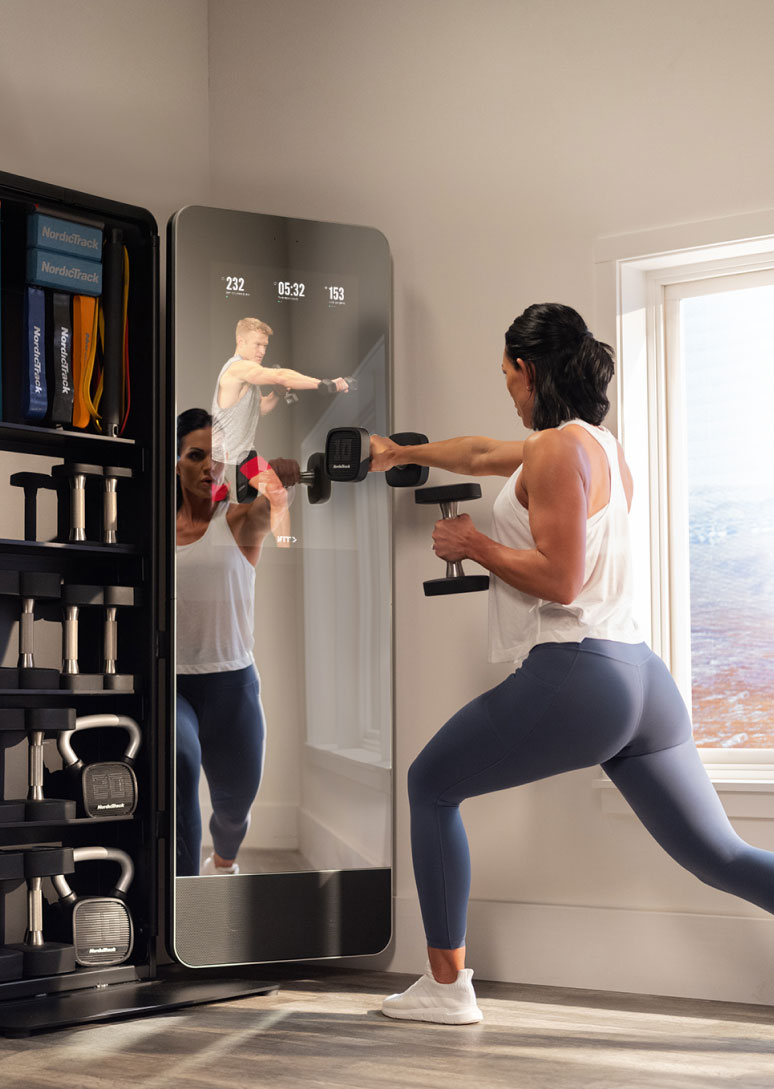 Would people use them?
Additionally mentioned is the benefit for people seeing progress in their aesthetic development. Although some people love looking at themselves in the mirror this can be off-putting for others. Not everyone is comfortable with the physical place they're in and avoids mirrors like the plague. It's fair to say though that this piece of kit isn't really targeting the shy demographic of people.
The creators also mentioned how it can help people in checking their own from, and the inbuilt AI can use various sensors/tracking software to provide form suggestions for a more effective (and safer) session. It really sounds like the closest thing to having a PT right there with you. This makes it an ideal piece of kit for those that train at home and need some guidance or enjoy being a part of a community.
Alternatively, you may be looking not for a fitness solution but to step into the wonderful world of fitness yourself as a career. If so we'd love to hear from you, drop us a message on our social media @futurefittraining because we'd love to hear from you. Alternatively, if you are interested in a career in the fitness industry discover more about how to become a Personal Trainer.
Professional Opinion
As someone that's been involved in the fitness industry for years I've seen a lot come and go. There have been various gimmicks that on the surface seemed to be the best thing to come along since sliced bread and yet they all found their way to becoming a clothes rack or makeshift shelf. Some sadly ended up gathering dust in a garage once their novelty had worn off.
Online coaching is already the main staple. Think of all the current online training options that have been available since the pandemic. You can pay a coach to be there live on ZOOM (or similar). There's the option of recording your training and sending it to the trainer for specific and personal feedback, plus they'll often film their answers along with any form demos to send back in their update.
How many people used one or more of these options for perhaps only a month or two before deciding it wasn't for them? How many are still using their online coach/trainer?
There's now a seemingly endless amount of apps, Facebook groups, live IG workouts, online platforms that hold digital archives of follow-along sessions and literally thousands of FREE sessions on YouTube for every conceivable person.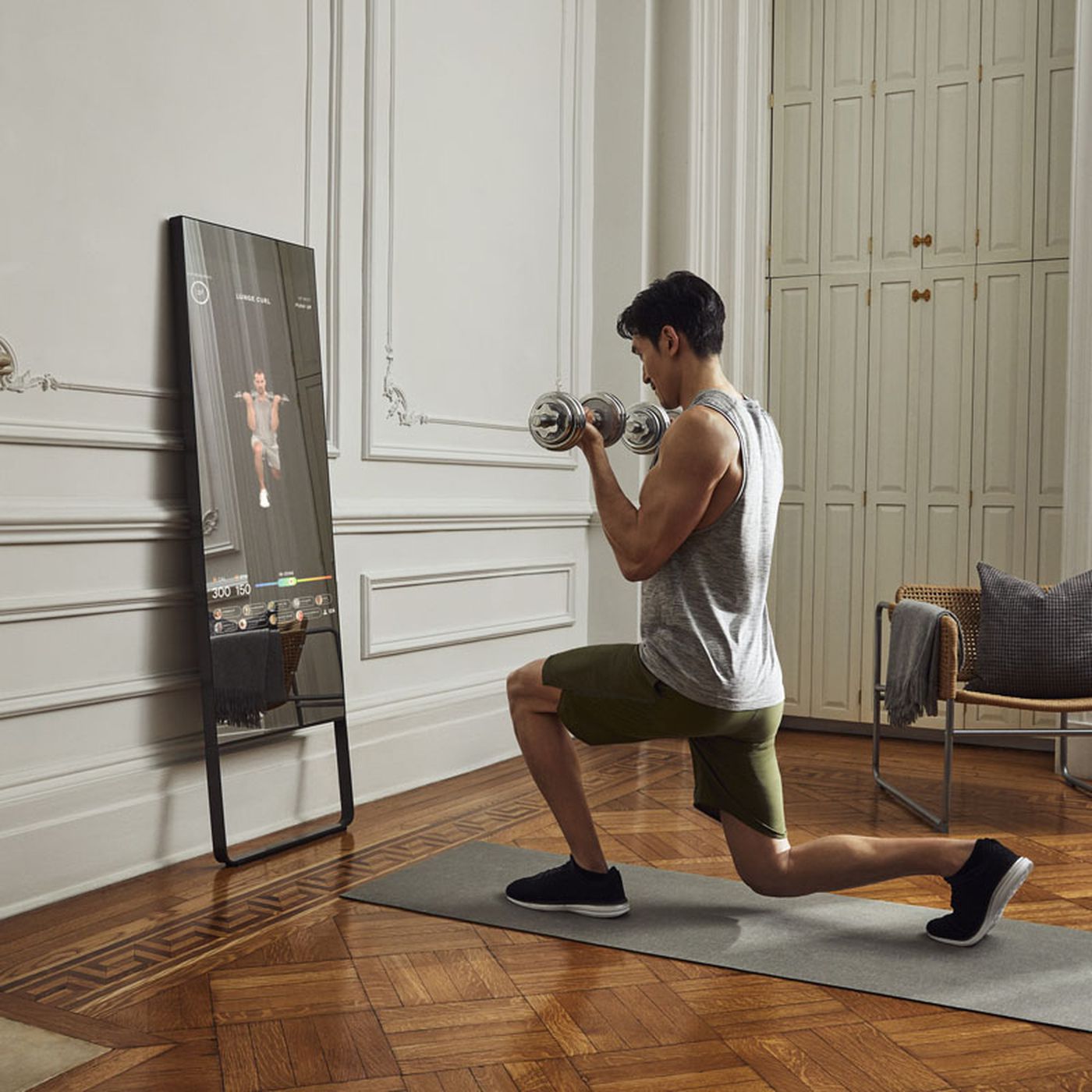 Have they missed the boat?
As good as the Fitness Mirror sounds have this new addition to the fitness market missed the boat? This piece of modern home gym kit will is available in the UK (according to the website). You can expect the initial investment to set you back around £1,950 for the top of the range one.
You'd get the slightly less jazzed up version of the same brand for £1,195. There will also be a subscription fee to be paid monthly as well at £39 per month (£468 per year). Given people baulk at paying perhaps £35 for a 1 hour PT session, this device isn't for those with a low budget.
For £2418 that would get you about 70 1-2-1 sessions of PT (at £35) for a year.
That's a minimum of 1 session a week and two on other weeks with a coach that will literally create a training program that is specific to you, as opposed to you doing it yourself. This is something plenty of our fully qualified students can help you with.
Perhaps you're thinking about making a fitness change in your life? There may even be a Future Fit Graduate who lives in your area, head over to @futurefittraining and drop us a message because we'd be happy to put you in touch with someone local to you.
I personally can't see this new fitness tool being more than another flash in the pan, although I might be wrong. Being a little biased I'm willing to say that nothing will ever trump face to face training. A coach's eye isn't something that can be programmed and easily recreated no matter how impressive the coding is.
Why would I say this?
Because it will always lack that human element of experience/feeling for the movements. People also need more support than can be offered through AI when it comes to nutrition, coaching and lifestyle/behaviour change. As much as we venture ever closer to a life free from human interaction and a fully augmented reality, we're not there yet.