Disclaimer: This article has been written by a guest author. The author's views are entirely his or her own and may not always reflect the views of Future Fit Training.
It's not always easy to eat healthy when you're watching your wallet. It takes some trial and error to try and figure out what meal ideas work best for you. But, it's certainly not impossible to find nutritional and affordable food.
With a few tips, you'll be on your way to a budget-friendly, healthy diet.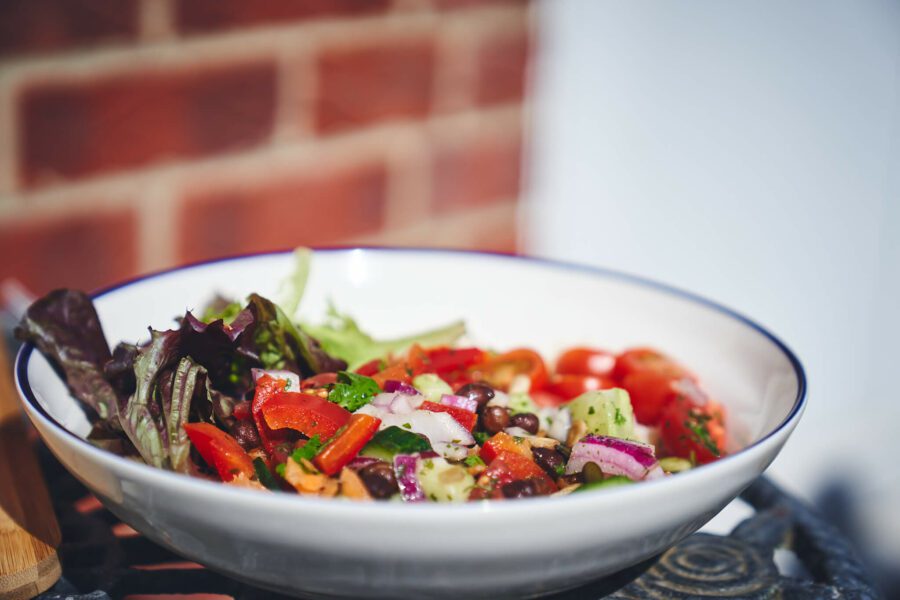 1. Not all frozen food is bad for you
The myth that frozen food is bad for you is ruining the reputation of some healthy frozen options. Freezing fruit and veg preserves the nutrients so all the good stuff is locked in ready for you to eat.
Fruit can spoil quickly and since it's expensive, the best thing to avoid wasting money and food is to freeze your fruit. You can even pre-pack smoothie bags so to save yourself time. Just select your recipe and pack your veg and fruit into separate bags.
Bulk-buy vegetables such as broccoli, carrots and cauliflower, so you can cut them up and freeze them. Vegetables can last for months in the freezer, which is useful for your meal prep too.
2. Meal prep will save you time and money
Pre-planning your meals is one way to save some money. You can prep for the whole week if you have space in your fridge. Otherwise, try and meal plan for a few days at a time. Meal planning helps you to avoid binging or overspending on your lunch. Try pre-preparing your own refreshing juices for the morning, and grab yourself a bargain blender by using a studio discount code.
To successfully meal plan, make a shopping list and stick to it to avoid splurging on foods you don't need or shouldn't eat.
The key to healthy meal prep is to do some research on recipes and keep a file or record of your favourites.
Keep a diary of your meals for the week so you can stay on track.
There are a few meals that are straightforward for your meal prep. Brown rice with either chicken breast or minced lamb topped off with steamed veg is an easy recipe. Another quick recipe is salmon, asparagus, potatoes and green beans.

3. Healthy snacks do exist
Snacking has notorious connotations when most of us think about snacks we imagine cakes, chocolates and foods that are full of sugar and carbs. Redefine your snacking habits by trying some of the below, the best part is they're also cheap.
Carrots sticks make for a great alternative to bread, dip them in your hummus and enjoy.
Corn thins are even better than rice cakes, spread some low-fat ricotta on them or even organic peanut butter for your breakfast.
Greek yoghurt accompanied by fruits is a classic and much healthier than those fruity colourful yoghurts.
Feeling peckish? A handful of nuts will help to kerb your hunger. Although nuts aren't usually cheap, it's better to buy the larger packs instead of the small-overpriced snack-sized bags.
Eggs are incredibly underrated. They actually contain around 6 grams of protein per egg, so why not make an omelette with a few eggs. It's fast and you can eat eggs for any meal of the day or even as a snack.
4. Give certain foods a second chance
Pasta can be eaten in moderation, try and find gluten-free brands. If you're trying to gain weight then pasta will definitely help. If you're trying to lose weight then substitute traditional pasta for courgette pasta. Try and avoid store-bought sauces like white sauce or carbonara, and instead buy tomato puree or even better, fresh tomatoes and make your own sauce.
We've all had those student days of binging home cheap, instant noodles but it probably comes as no surprise that they're full of additives and other pointless ingredients. The good news is you can buy courgette noodles/spaghetti, which can you can cook in a few minutes.
It's getting easier to find healthy alternatives and still create tasty recipes, although the taste of courgette noodles won't be the same as spaghetti, the texture is surprisingly similar. You can also get sweet potato noodles, add your spices, some veg and chicken breast for a bowl of nutritional goodness.